A century of delivering the goods
Horticultural freight specialists celebrate 100 years in the family business.
Family freightage
Greenwood Plants is proud to use Bleach of Lavant for the majority of our plant deliveries. We pride ourselves on timely deliveries of quality produce, and we trust Bleach of Lavant with our reputation on this score. This year marks their centenary – a mighty milestone for a family business to reach – and they are still going strong, with a loyal and growing customer base.
Officially founded in the 1950s, the company's story begins in 1921 with the purchase of a single lorry by Harry Bleach, using his gratuity money after the First World War. Operating on a local scale in the scenic West Sussex village of Lavant, the first Bleach vehicle primarily delivered agricultural commodities under the name Bleach Transport.
Since then the company has gone from strength to strength, now with fourth generation family members involved too. In 1955 Harry's son Lawrence, more generally known as Mick, coined the name Bleach of Lavant Limited. By then the company was running around a dozen trucks – and more was to come.
Fleet-footed
Nowadays Bleach of Lavant boasts a veritable fleet of trucks, with 70 dedicated vehicles which are specifically designed for carrying plants and have tail lift off-loading. Even in peak season, Bleach of Lavant work with their customers – among whom Greenwood Plants Ltd is proud to number – to provide a seamless and reliable delivery service.
With expansion came the need for space. The company moved its workshop to Chichester in 1985, and acquired a further site for vehicle operations at Ford Airfield in 2007.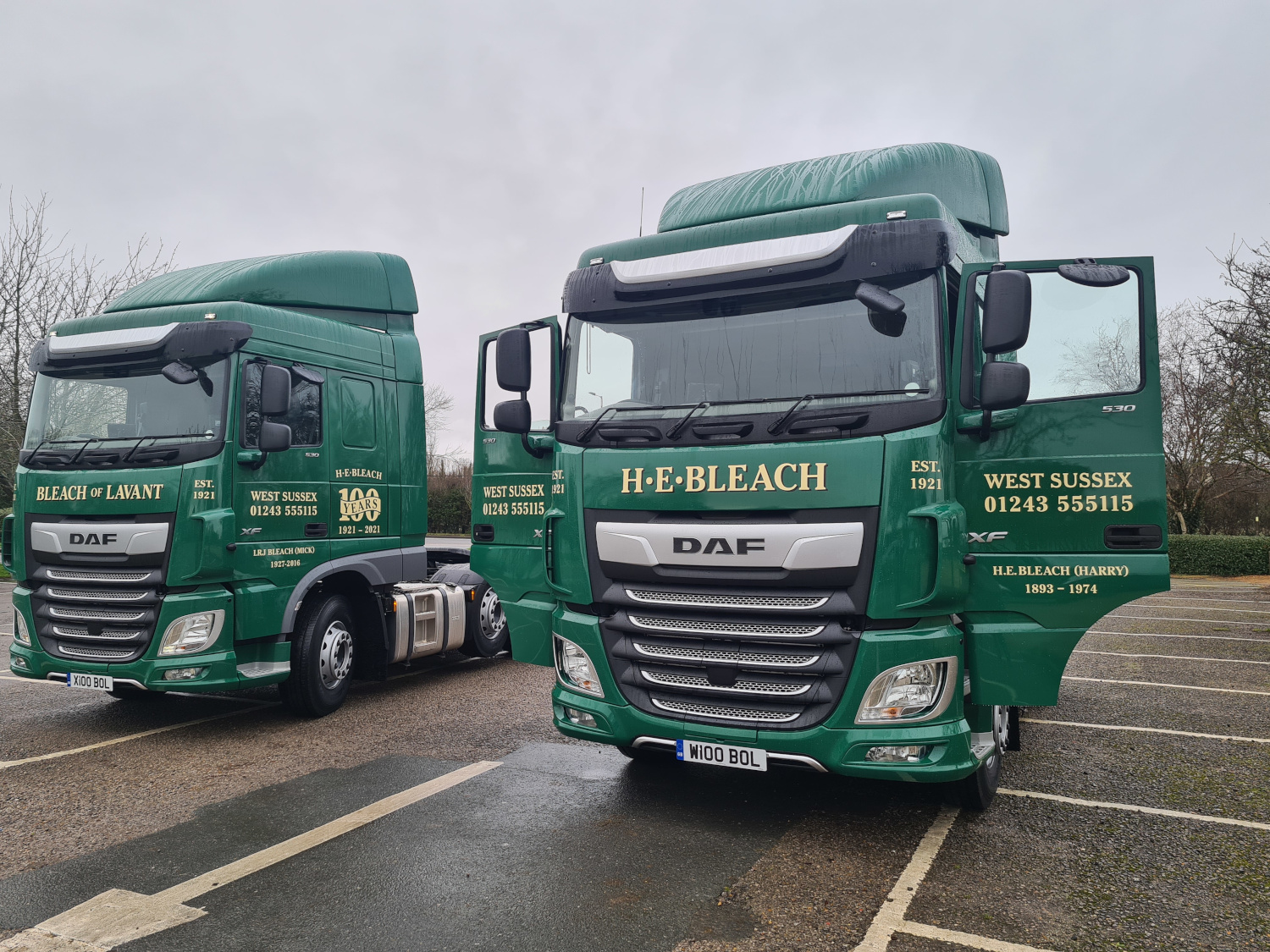 Two new trucks commemmorate 100 years of trading, and pay tribute to Harry and Lawrence 'Mick' Bleach.
Facing the future with a nod to the past
Harry's grandson, another Mick Bleach, now runs the company, and his two sons, Ben and George, have also stepped into the family business. Explaining the company's longevity and success, Mick says, 'I guess it's firstly having family that have an interest in the business. For me it was always in the back garden, and that's always what I wanted to do.' He is delighted that his sons are now part of the company too.
To commemorate the centenary, two special new vehicles have graced the roads. But while they have all the tech of the modern age, they hark back to the company's origins. 'Both are dark green,' explains Mick, 'which used to be the colour that all the trucks were ordered in before 1976.' The doors, too, give Harry and Lawrence their dues, with one truck bearing Harry's name (H.E. Bleach) and the other Lawrence's (L.R.J. Bleach). It's a fitting familial tribute to men who began what has become a thriving freight business.
Mick intends for this to continue. 'I am sure both of our companies will be round for many years to come,' he says – and Greenwood Plants Ltd hopes to continue the journey alongside them, transporting a wide range of quality plants to landscapers across the country.