Buxus sempervirens, an established favourite of the British garden for centuries, is a very versatile and useful shrub for hedging and numerous other applications. However, incidences of box blight, Cylindrocladium buxicola and Pseudonectria buxi. has increased dramatically in recent years with whole swathes of ornate and impressive parterres and topiary gardens completely destroyed.
A full and comprehensive report on the fungal disease and appropriate treatments can be found on the RHS website by clicking here.  In our own experience the most successful deterrent has been to encourage vigorous growth by regular feeding with a high calcium based fertiliser. This accounts for the reason that Buxus sempervirens performs poorly in compost based media in containers. Compost often is very low in the required calcium.
The industry has unfortunately had to look for alternatives for its low, formal hedges and topiary requirements and we evaluate a number of favourites from a commercial horticultural point of view.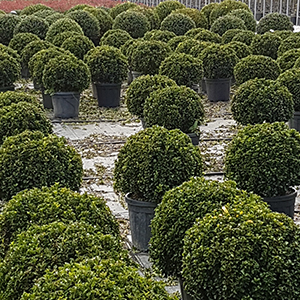 Ilex crenata and cvs , common name Japanese holly
Crenata is a slow growing compact evergreen shrub with small non-spiky green leaves and the industry's current favourite for a direct replacement for Box. Currently it is not produced commercially in the same numbers as box and therefore availability is limited and in addition to its growth rate, its cost is higher. Larger topiary items are currently, rarely available although it is anticipated that this will change as the industry 'catches up'. Golden Gem is a useful yellow leafed cultivar.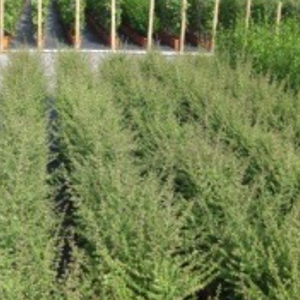 Lonicera nitida
Lonicera nitida is a medium sized vigorous grower with small green leaves and is a cost effective option in certain circumstances. Readily available as hedging shrubs in sizes generally up to 60-80cm but rarely larger. It is not suitable or commercially produced in topiary forms. It is prone to defoliation itself and a generally untidy appearance, particularly in damp conditions. Lonicera n. Maygreen is an amenity favourite for ground cover but can also be used for low hedges with regular pruning. Baggesons Gold is a yellow leaf variety which carries the same characteristics.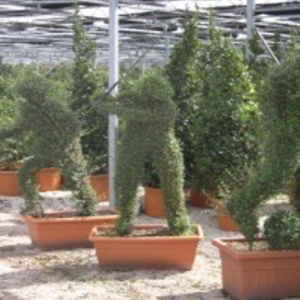 Ligustrum delavayanum Common name Italian privet
The Italian privet is an exceptional and widely available topiary plant, grown in huge numbers and styles, generally in Pistoia, Italy. It has very small dark green leaves and prunes exceptionally well, although it is a rapid grower and does need regular pruning to be kept in shape. Rarely grown as a hedging shrub and does suffer from defoliation and dieback when not regularly watered and pruned.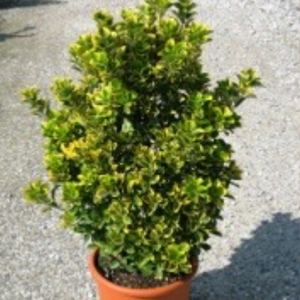 Euonymus microphyllis Aurea
In our opinion, a very cost effective but often forgotten 'gem' and an ideal replacement for low growing hedging requirements. Its growing habit is remarkably similar to Buxus, even 'suffruticosa' and is a very reliable and compact grower in nearly all situations, including seaside. More suitable than its fortunei relations, it is unavailable in topiary forms and rarely in large established plants.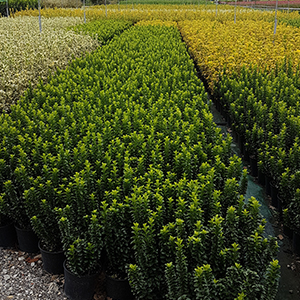 Euonymus japonica common name Japanese Spindle
Japonica is a medium sized evergreen shrub with dark evergreen leaves. The leaves are larger than box and as a result are never quite trims as neatly. Jean Hughes is a new introduction which has a better more upright form. They are a versatile and tolerant hedging shrub but being a newish introduction is currently limited in availability. It is a relatively easy shrub to cultivate and therefore will be undoubtedly become a favourite.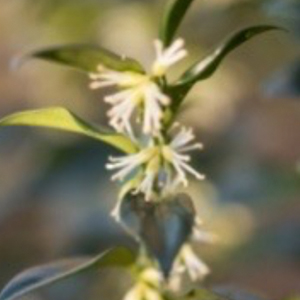 Sarcoccoca confusa or hookeriana Common name Winter Box
A company favourite and a deserved one, Sarcoccoca is a delightful shrub with its dark glossy evergreen small leaves, dense foliage and sweetly fragrant white flowers in Winter. Very slow growing and commercially similar to Ilex crenata in terms of availability and cost, it is however in the same buxaceae family as Buxus sempervirens and therefore technically it is susceptible to the same fungal diseases. This is not as prevalent and unknown, admittedly, to the writer until the time of writing.
Other alternatives
Cotoneaster conspicua decorus or microphyllis are very robust and cost effective options, which will make a formal hedge if shaped. It isn't a particularly similar replacement and somewhat amenity in its appearance. Osmanthus delavayi is a commercially useful hedging alternative, particularly where a larger hedge is required. Some of the Berberis cultivars clip well but could hardly be called genuine alternatives. For something really out of the ordinary, try Azalea japonica, Japanese Azaleas, kermasina being a particularly early flowering compact variety.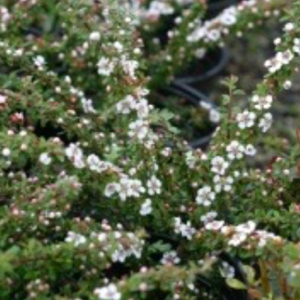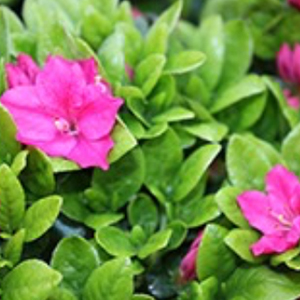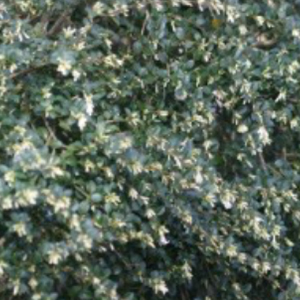 Conclusion
In terms of commercial availability, there is currently little that will immediately replace Buxus sempervirens for its wide range of options including hedging, mature specimens, topiary spheres, cones, spirals and other intricacies. Quite simply it is a shrub with years of production and cultivation experience and refinement and its demise will be fought by horticulturists for many to come. The industry will refine itself and production of the obvious replacements will increase to fulfil the void over the next 5-10 yrs.