Focus on: Leucothoe (different varieties)
Bring life to your landscape with Leucothoe
Benefits of Planting Leucothoe
Widely known as Dog Hobble, Switch Ivy or Drooping Laurel, Leucothoe is a compact and variegated shrub. It features arching stems and beautiful broad, glossy leaves. With over 50 different species in the Ericaceae plant family, Leucothoe comes in many different forms and is mainly evergreen. However, some varieties are deciduous.
Its stunning foliage varies in colour throughout the year and depends on the variety. Classically, Leucothoe leaves tend to start out fresh green, purple or red in spring; these later transition to bronze, or a more eye-catching red in autumn.
Leucothoe blooms in May with small, bell-shaped white flowers—occasionally blue in some variations—later becoming five-lobed globular fruits, which are fantastic for birdwatchers. These delicate flowers truly bring life to the garden, making it a very popular ornamental plant. It's also good to note that the flowers are high in pollen and nectar, which are excellent for attracting bees.
Being a compact shrub, smaller varieties tend to reach 0.5-1m in height, with larger varieties reaching 1-1.5m. They generally spread to about 1-1.5m wide; however, Leucothoe fontanesiana scarletta 'Zeblid' grows wider, spreading to 2.5m.
Key Characteristics of Leucothoe:

✓ Mainly evergreen
✓ Compact shrub
✓ Plant year round
✓ Height range from 0.5-1.5m depending on the variety
✓ Hardy in winter
✓ Low maintenance
✓ Grows best in well-drained, acidic soils
✓ Partial shade preferred
✓ Flowers in May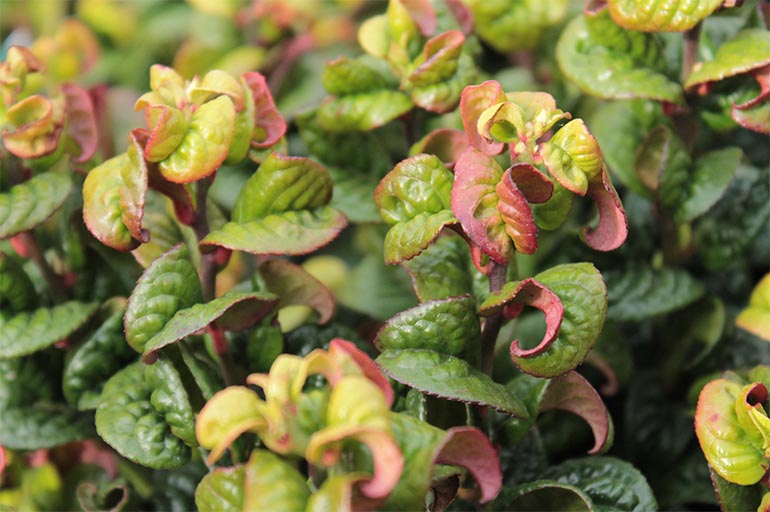 Leucothoe Axillaris 'Curly Red'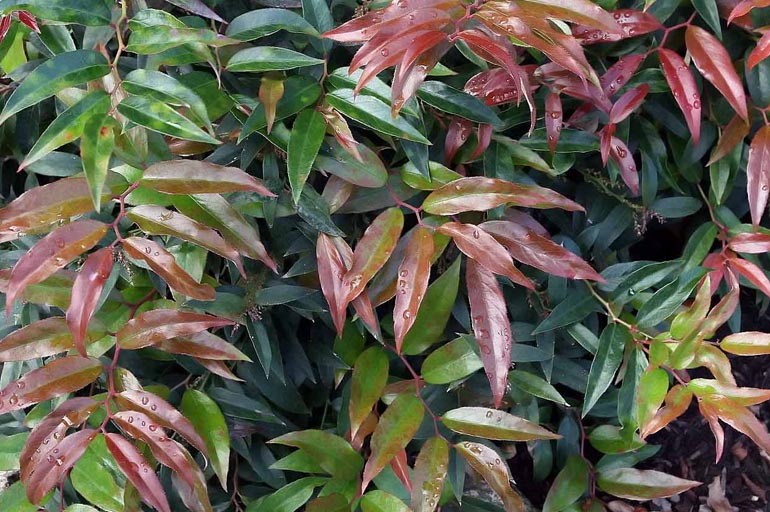 Leucothoe Keiskei 'Royal Ruby'
Different varieties of Leucothoe
Leucothoe axillaris 'Curly Red'
Named 'Curly Red' for good reason, this variety of Leucothoe grows unique curling and puckered leaves. These leaves start out in a reddish-orange shade in spring, then transition to green in summer as they mature. Finally, they change to red in autumn and winter. This variety prefers full sun to partial shade, and grows between 0.1-0.5m in height.
Leucothoe fontanesiana 'Rainbow'
This unique variety of Leucothoe gets its name from distinctive red branches and marbled cream and pink leaves; it truly is a beautiful plant. 'Rainbow' is a taller plant from the Leucothoe family—growing up to 1-1.5m. Leucothoe fontanesiana 'Rainbow' prefers areas with full or partial shade.
Leucothoe fontanesiana scarletta 'Zeblid'
With young, bright red edged and green leaves, this variety of Leucothoe will add a subtle pop of colour to your landscape. As the leaves mature, they turn to a dark, glossy green and transition in autumn and winter to a warming shade of bronze/red. Leucothoe fontanesiana scarletta 'Zeblid' grows up to 1-1.5m and prefers full sun or partial shade.
Leucothoe keiskei 'Royal Ruby'
One of the smaller varieties of Leucothoe is the 'Royal Ruby'—growing up to 0.6m in height. 'Royal Ruby' is named after stunning ruby-red leaves, which are enhanced by cold weather; these provide excellent winter interest in the garden. Full sun or partial shade are preferred by this particular variety of Leucothoe.
How to grow Leucothoe
Leucothoe is a pretty low maintenance and easy plant to grow. Its natural habitat comprises of moist, forested mountainous areas of North America. Most varieties require shade or partial shade positioning; a more desired leaf colour will be achieved under these conditions. Leucothoe generally isn't a sunworshipper and prefers acidic, damp, well-draining soil, so mulching with bark chippings is recommended after planting.
Consistent and moderate watering—as well as using a special fertiliser for heathers (Ericaceae) in spring—will help to keep your Leucothoe healthy and maintain the acidity of its soil.
Leucothoe can be planted throughout the year. However, spring or autumn are most ideal. These times of year allow for optimal root growth and plant establishment.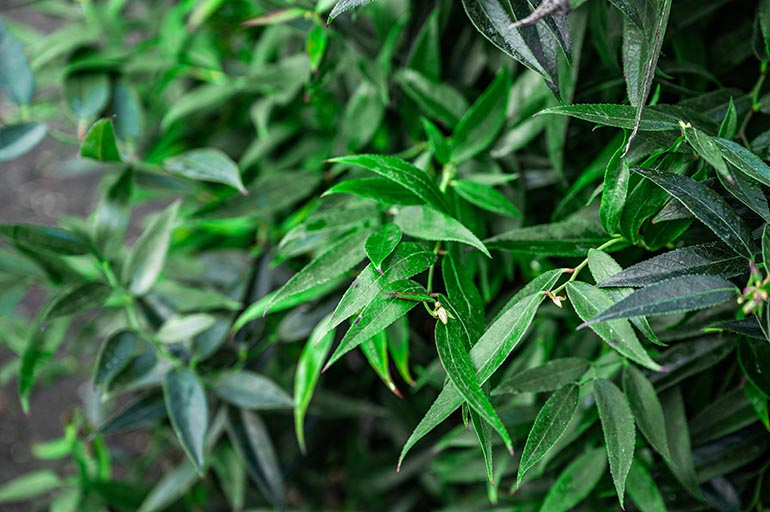 Leucothoe keiskei 'Burning Love'
How to care for Leucothoe
When it comes to hardy plants, Leucothoe fits well into that category. Some species can tolerate temperatures as low as -15°C, meaning it can be left outside throughout the colder months. Leucothoe will need a little bit of protection in the winter—mainly against harsh eastern winds which may damage the foliage, and against frosting and thawing.
This family of plants is relatively untroubled by pests or disease and requires no special attention to thrive.
You can prune Leucothoe after it has flowered in late spring. It's a good idea to cut back any damaged or dead stems—just above the base of the plant. Avoid pruning too early in the winter as this can lead to frost damaged branches.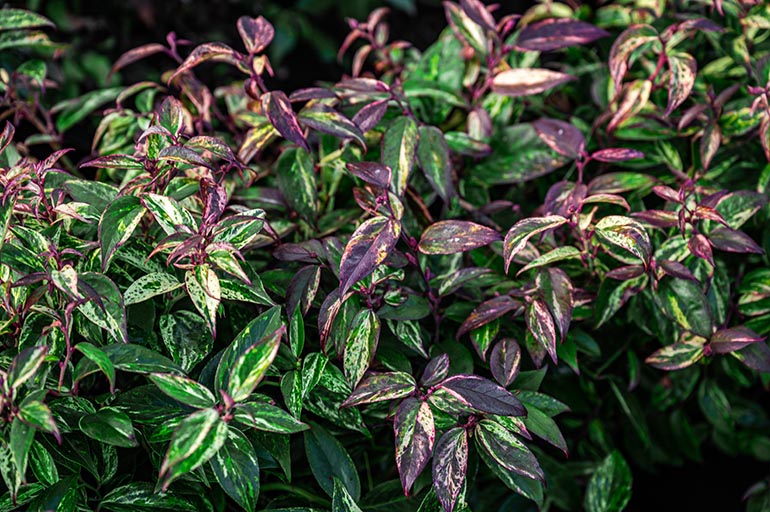 Leucothoe Fontanesiana 'Makijaz'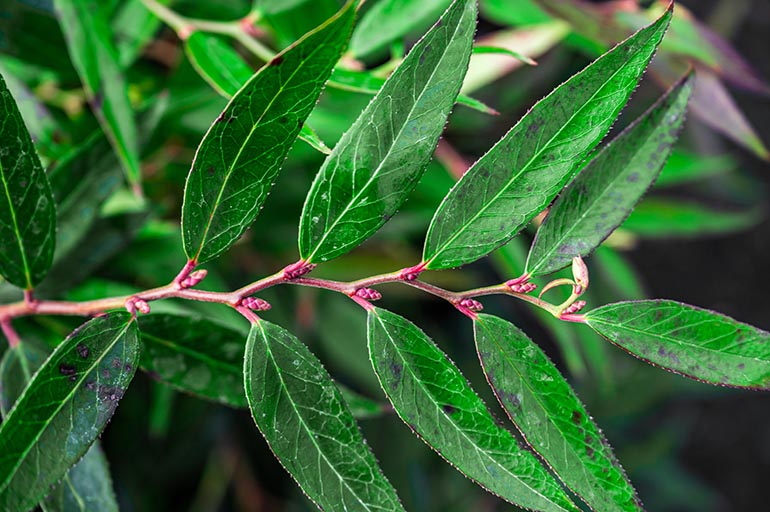 Leucothoe keiskei 'Burning Love'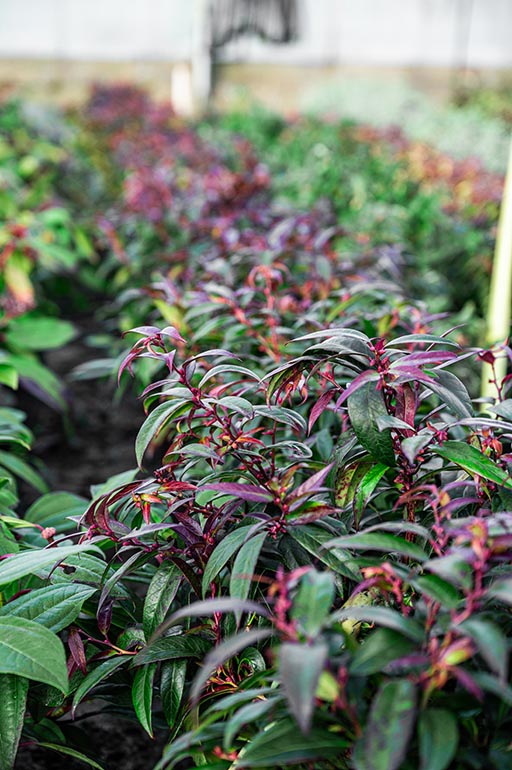 Leucothoe keiskei 'Burning Love'
Our favourite varieties of Leucothoe
All varieties of Leucothoe are unique in their own way, but we'd love to share our particular favourites with you.
'Little Flames' sums up this variety perfectly—new shoots grow in a fiery crimson shade, contrasting from its glossy, green foliage. The leaves then transition to a beautiful crimson shade in autumn.
'Burning Love' is a lovely variety with slender pointed leaves. Starting out green in the summer, the leaves then change to a deep red or purple towards the latter part of the year.
Last but most definitely not least, we have 'Makijaz'—a truly superb Leucothoe variety. New shoots emerge in warm bronze or pink shades, and then mature in summer to green, with a unique marbling effect. In autumn, the leaves transition to a burgundy red, providing excellent winter interest.
Contact one of our G Team experts if you need any advice or more information on the varieties of Leucothoe we offer.