Greenwood in the Community: East Wittering
Making a difference to our local communities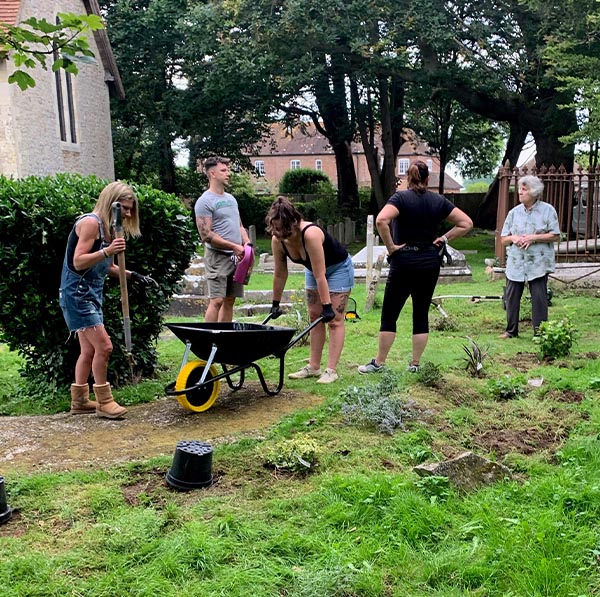 In July 2021 we donated a selection of plants to a group of volunteers who were renovating a graveyard in the Sussex village of East Wittering. One of our drivers, Denis Pollard, was a member of this group. They cleared overgrown areas, righted fallen gravestones and used our donated plants to make the graveyard a much nicer place to visit.
We wanted to do more of this community activity, and so used social media to ask local organisations to apply for a gift of plants; we received a great response from this. Over the next few months, we donated plants to Westergate Community College, Creative Heart wellbeing charity, Lyons Club Chichester Harbour branch (another group of volunteers creating a garden in a local school) and Felpham Conservation Group. These organisations have used our donated plants to create green spaces, peace and wellbeing gardens and have also sold some of the plants to raise funds to maintain village gardens.
In addition to these local projects, we have donated plants to three of our clients who were carrying out voluntary work in schools, to create or improve gardens for pupils and staff to enjoy. All of the green spaces and gardens created with our donated plants will have lasting benefits to local communities; we are proud to be supporting such planting schemes.
We will donate more plants for worthwhile projects in our local area throughout 2022. If you know of any organisations who could benefit from a donation of plants, please ask them to get in touch. We will donate up to fifty plants at a time for schools, hospitals, charities or any other groups who are looking to improve the environment using plants. We are most keen to help our local communities, so would ask that any organisations looking to apply for plants are located up to five miles from any of our nurseries, although other worthwhile projects may also be considered.