Harvesting Water & Reducing our Waste
Water Saving Measures Across Our Nurseries
Water conservation is a practice that we've been committed to and gradually improved across our nurseries over recent years. Due to climate change causing dryer and hotter summers, as well as less predictable rainfall and water shortages, it's important for us to utilise water as efficiently as we can—with the aim of being fully self-sufficient by the end of 2022.
The Environment Agency has estimated a 15% decrease in England's summer rainfall by 2050, so it's becoming increasingly important for us to be using as little mains water as possible.
Recycling water is an excellent way to make a positive impact on our environment and we are continuously improving our processes in this area, to ensure we're doing as much as we can to conserve water and reduce water wastage.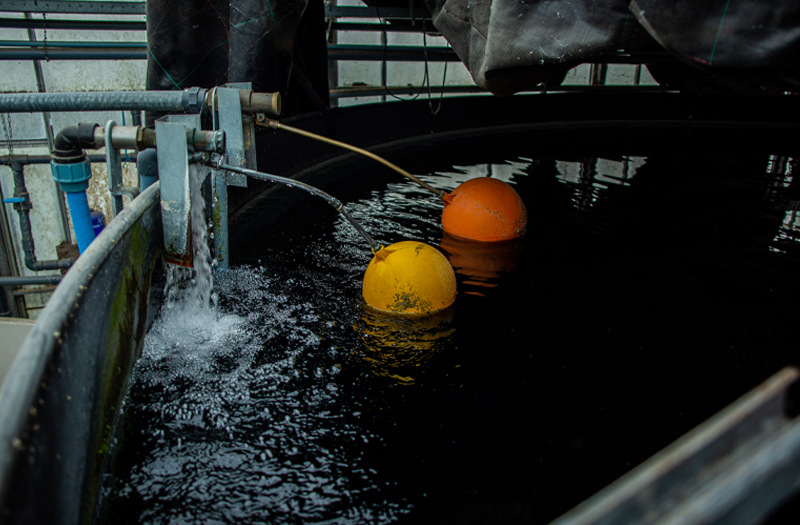 Recycled water being pumped into a collection tank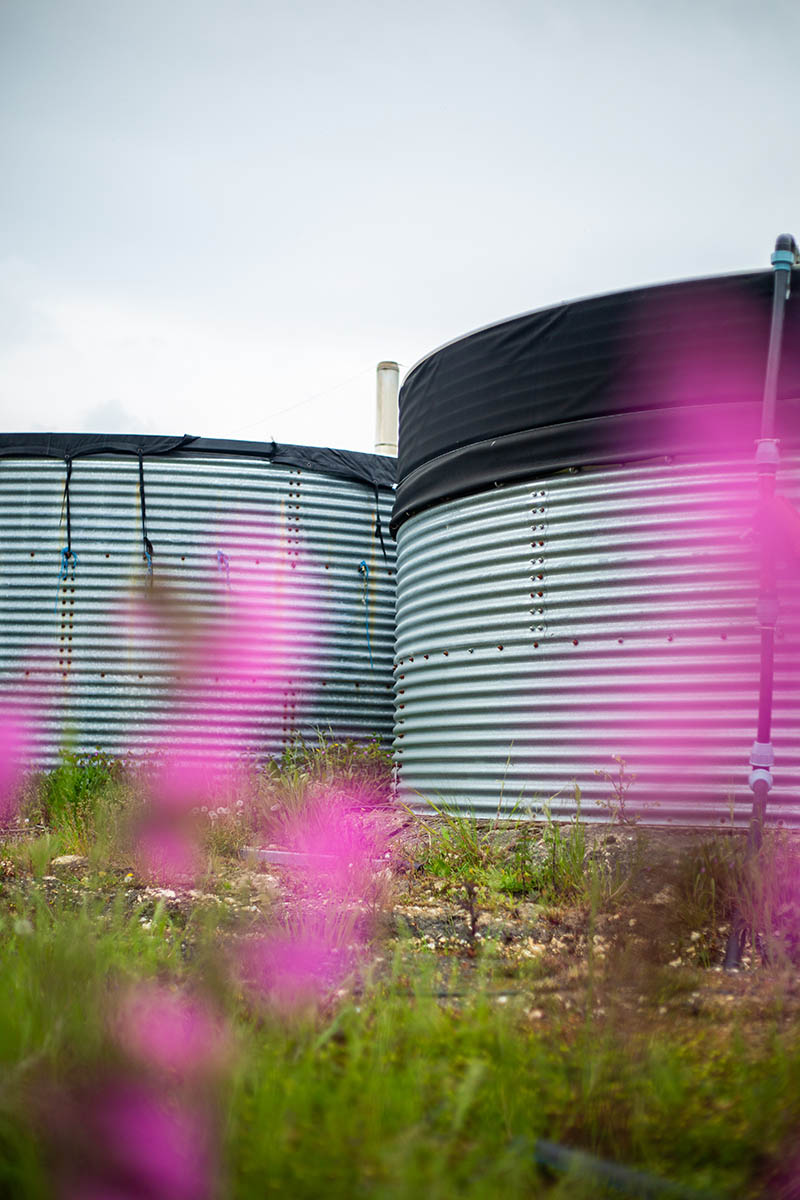 Water storage tanks at Fresh Acres
What does water harvesting look like at our nurseries?
Our nurseries have a variety of different water collection techniques. At Highleigh nursery, an 85,000 litre tank collects rainwater, alongside two sophisticated wells which collect surface water and pump it into our tank, to further add to our supply. Our Maple Tree nursery has a large collection well, where water is collected from and pumped into a reservoir, for use around the nursery. Fresh Acres nursery is one of our most advanced for water harvesting; we have a licence to extract water from a local stream, which is then filtered and pumped into an underground collection tank.
We also have state of the art watering systems, which also support the minimal use of water. At Fresh Acres, we have a flooding system supplying our one acre greenhouse, housing around 200,000 plants. Each of the 20 beds has a central tunnel, connected to the nursery's underground tank which floods the bed for the programmed length of time and to a specific height. The water is then allowed to drain away, to be filtered and sent back to the tank. This intelligent flooding system has many horticultural benefits, as well as being sustainable. Plant irrigation through the flood system is fantastic for plant growth, foliage protection and helping us to keep many plant diseases at bay—such as leaf spot.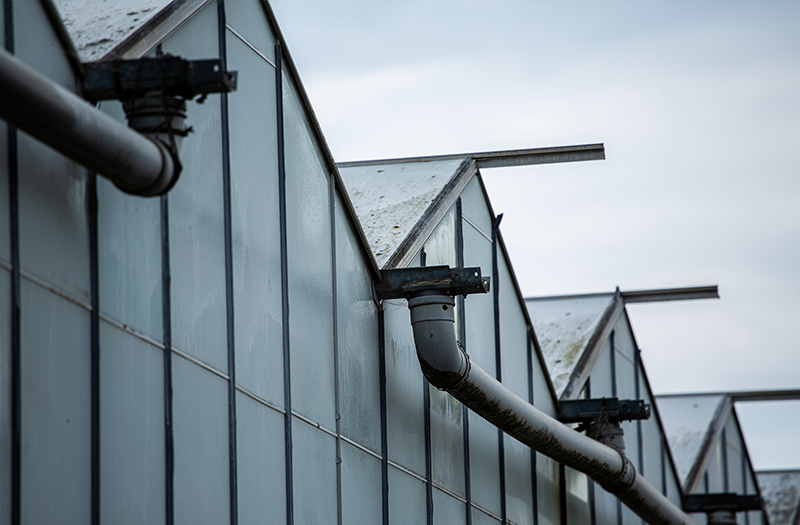 Rainwater is harvested from greenhouse rooves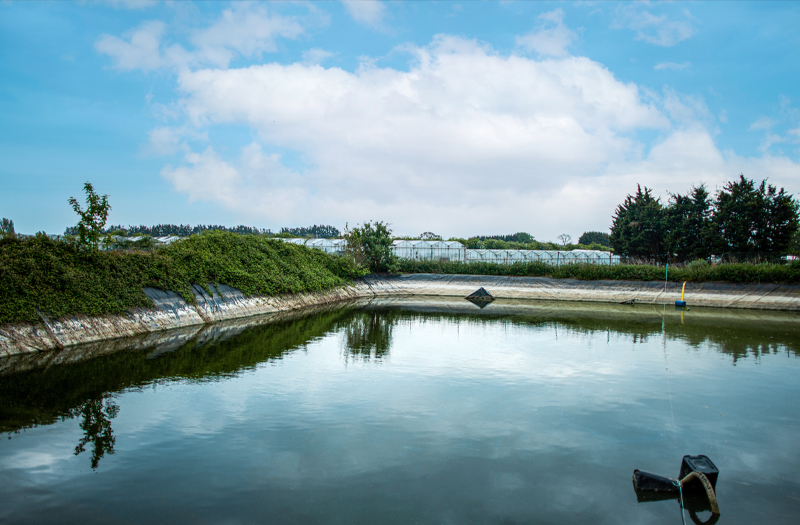 The reservoir at Maple Tree
What extra measures do we take to reduce water wastage?
As well as our flooding system in Fresh Acres' Greenhouse 4, other areas of our nurseries have specific irrigation techniques—tailored to the growing stage of the plants. In our propagation area, our benches have an intelligent flooding system, allowing our young, unrooted plants to be irrigated from underneath, whilst they also receive over the top irrigation—the most ideal technique for this stage. Additionally, we use a very efficient sprinkler nozzle around the nurseries—the MP2000 Rotator. This particular sprinkler nozzle maximises our water efficiency with its low precipitation rate leading to reduced runoff, providing water savings of up to 30%.
Our efforts don't stop at irrigation methods; our dedicated G Team work hard to ensure our plants are consistently positioned in straight lines, to keep any water wastage to a minimum, and they remain vigilant for any hose leaks throughout our nurseries, ensuring they are reported and fixed quickly.
We have initiated a number of pioneering sustainability practices over the past year; using our resources efficiently and reducing waste play a major part in our sustainability goals. To find out more about our sustainability initiatives, take a look at our Sustainability page.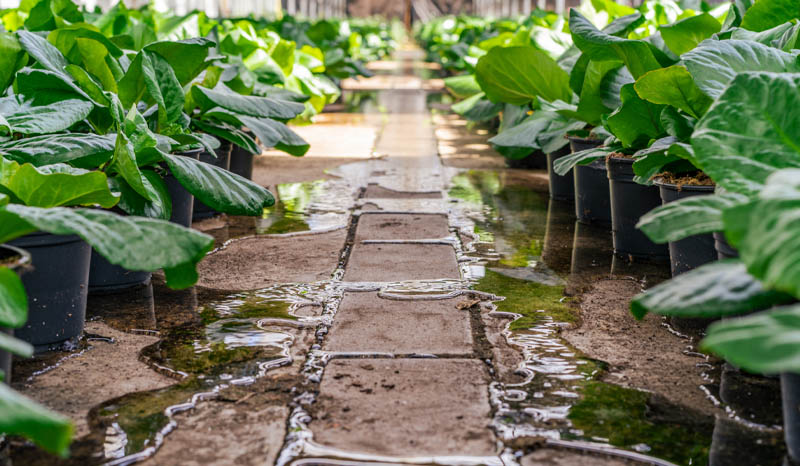 A flooding bed in action at Fresh Acres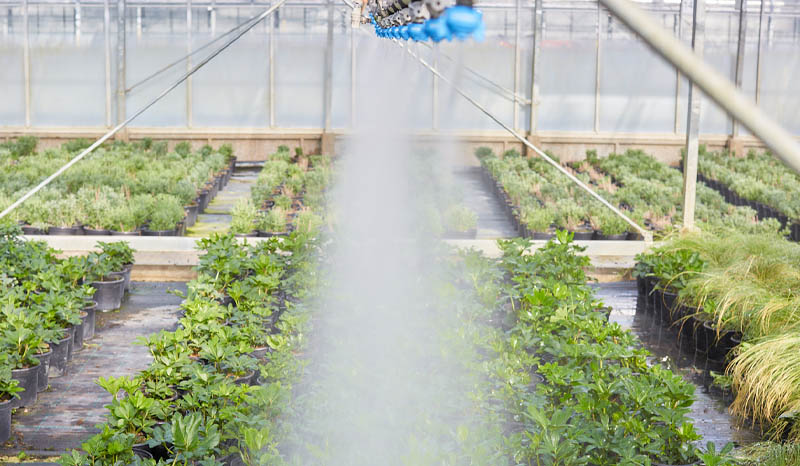 Our irrigation systems are tailored to the growing stage of the plants