Our Evergreen Hedging Recommendations
Add a bold, permanent presence to your landscape
Introduction
Evergreen hedges are hugely popular in the UK; mainly due to their year-round beauty, timeless appeal and vast variety of colour, whilst being fairly low maintenance. With a wide selection available to you, evergreen hedges can add varying colour, structure and textures to your landscape.
Hedges are planted across the country and provide a whole host of benefits—environmentally as well as visually. They add a practical and aesthetic purpose to our landscape, and their colourful, year-round foliage provide a pop of colour to your landscape design.
From an environmental point of view, evergreen hedges contribute to air quality, native wildlife conservation, reductions in pollution and increased biodiversity. Privacy, security, boundary establishment, protection from the winter elements and noise reduction can also be achieved with many evergreen hedges, depending on their height and density. All of these benefits combined, demonstrate the reasons behind their popularity.
Whilst deciduous hedges offer striking colour variations throughout the year, they tend to require more work throughout autumn and winter as their foliage drops, and after their blossom falls in spring. However, evergreen hedges retain their resilient foliage all year round, and for this reason, are usually easier to maintain.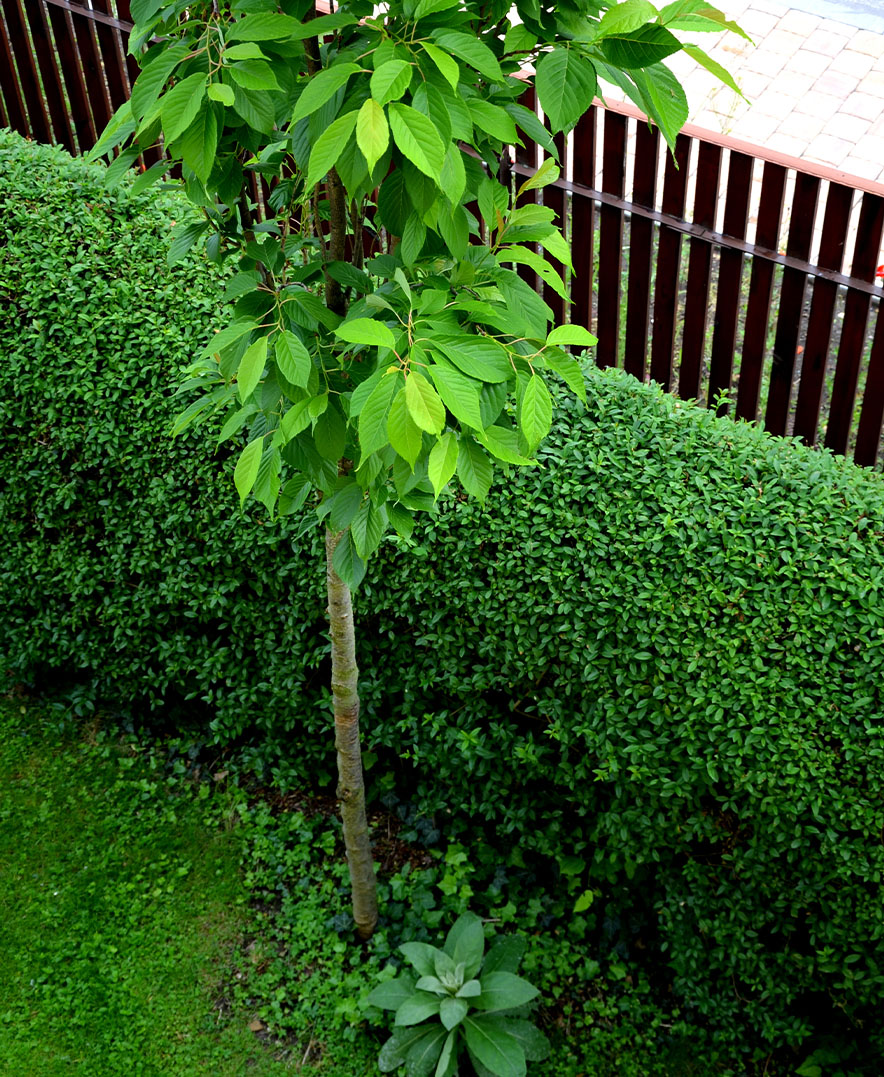 What do I need to think about when choosing hedging varieties?
Are you looking for slow growth or fast growth? How about a formal vs. informal hedge? What are your reasons for planting a hedge? Are you aiming for a small or large hedge? There are plenty of decisions to make when selecting the right hedge variety for your landscape.
If you are looking to clip just once a year, you will need to select a slow growing hedge—such as Yew. Yew is a hardy, low maintenance hedge and a good choice if you're wanting versatility. If fast growth is important to you—for privacy or adding interest—then Cupressus x leylandii (Leyland cypress) or Lonicera nitida (Shrubby honeysuckle) are both ideal for this purpose.
If you prefer a formal style, select hedging plants that can tolerate regular clipping. On the other hand, if you're after a natural and informal style, make sure to keep pruning to a minimum.
Do you want a low maintenance, smaller hedge? If so, select plants such as Buxus (Box) or Euonymus japonicus (Japanese euonymus).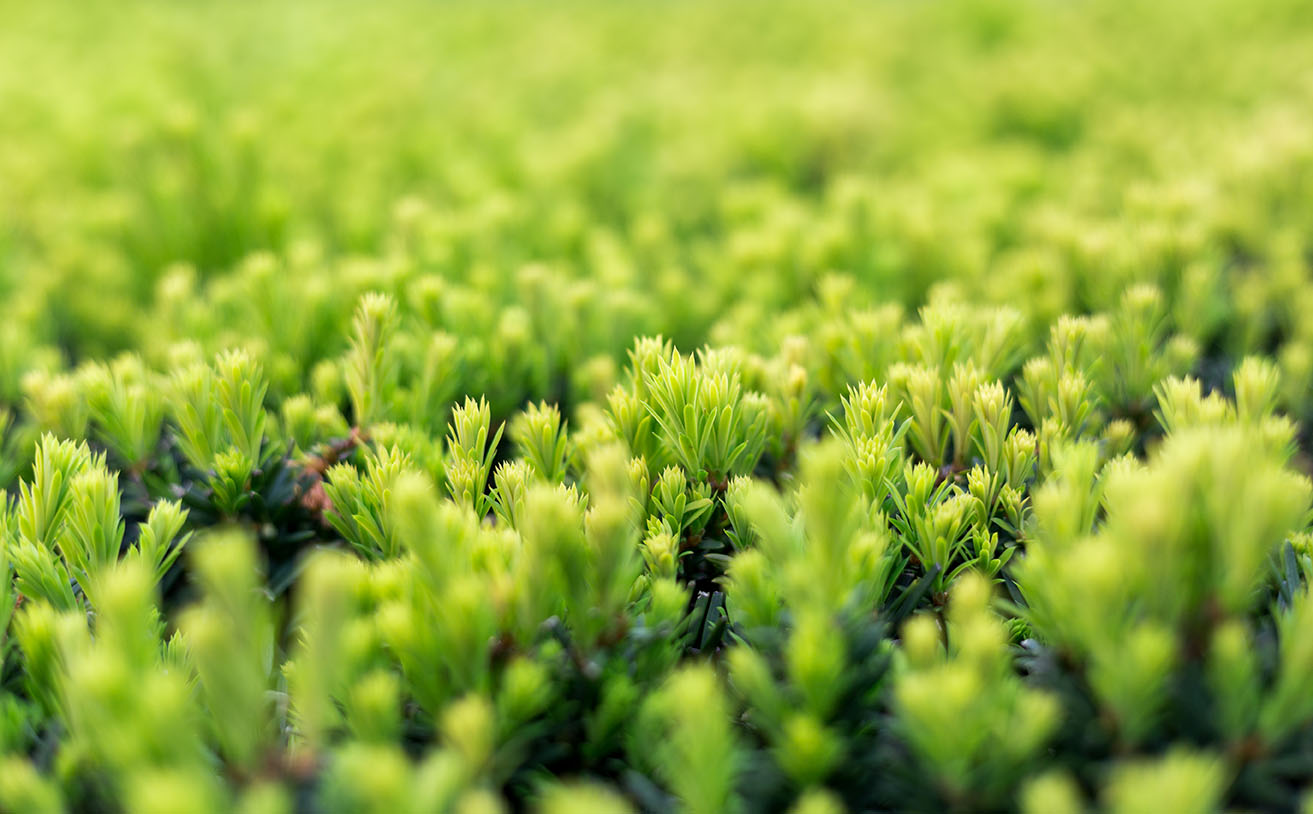 Taxus Baccata (Yew) hedging detail.
Which evergreen hedges are best for privacy?
Fast growing, larger hedges are an excellent choice for garden screening, and they establish quickly to give you optimum privacy. Due to their speedy growth, regular pruning and shaping will be required to keep them under control and ensure your hedge always looks tip-top. Ideally, dense, small leaved, evergreen hedges are the best for privacy as they're almost impossible to look through.
Cupressus x leylandii (Leyland cypress) is a large, fast growing, coniferous evergreen that is often used for hedges and screens. It grows rapidly—at a rate of 75 to 90cm per year—and brings elegance to your landscape design with its columnar habit. Leyland cypress prefers normal and clay soils and grows best in full sun or partial shade.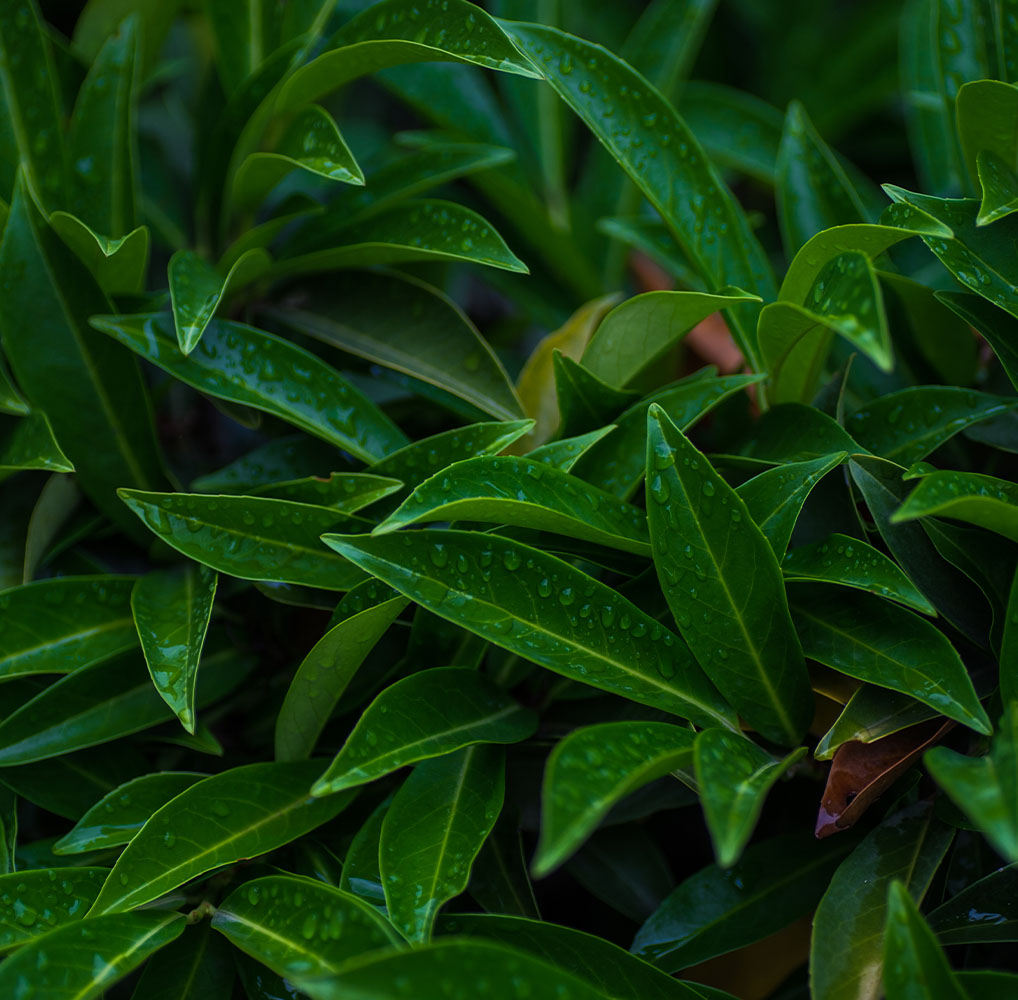 Another fast growing evergreen hedge is Lonicera nitida (Shrubby honeysuckle). Shrubby honeysuckle is a large hedge—growing to around 3m in height— and its leaves form a very dense hedge, which are excellent for privacy. In spring, Shrubby honeysuckle blooms delicate, creamy white flowers with a subtle fragrance, and attractive, blue berries in autumn—great for the local wildlife!
Prunus laurocerasus (Cherry laurel) is a very fast growing, large, wide spreading hedge with stunning, glossy, dark green leaves. Cherry laurel isn't fussy when it comes to shade or sunlight and will thrive in different soils. In average conditions, Cherry laurel grows around 50cm per year and adds value for local wildlife with its black and red fruits which appear in autumn.
If you're seeking a more formal hedge, Ligustrum ovalifolium (Privet) is an excellent choice, and has dense foliage which offers privacy and protects against pollution. Known for its oval-shaped, green leaves, Privet blooms stunning, small, white flowers in summer—highly attractive to bees. Privet is usually a permanent evergreen; however, it can have some leaf fall during particularly harsh winters. It's a reasonably fast growing, large, hardy hedge, with 20-40cm of growth per year, and prefers sunny spots.
Which are the best evergreen hedges for wildlife?
Evergreen hedges provide an excellent source of food and shelter for wildlife throughout the year. When it comes to boundaries, hedging allows wildlife to move freely between gardens; therefore, it's often a preferred choice over fencing. Hedging also acts as a natural windbreak, creating sheltered spots, which are an excellent benefit to butterflies in particular.
For wildlife, the best hedges are made up of several different species—coming into leaf, flower and fruit at various times of the year. Evergreen hedges provide food in various different forms, such as seeds, nuts, fruits and nectar-rich flowers.
To ensure your hedging benefits local wildlife in the most efficient way, it's important to avoid any trimming during the birds' breeding season—between March and August. Keeping an informal shape also provides a more ideal home for wildlife to flourish, as it allows for more flower and berry growth to take place.
On Britain's red list of mammals, hedgehogs, are hugely on the decline in the UK. Evergreen hedging can provide excellent benefits to our small and prickly friends, through allowing freedom of movement and providing an ideal habitat for hibernating, feeding and breeding.
Previously mentioned above, Shrubby honeysuckle is a great choice of evergreen hedging for wildlife—especially birds—as its blue berries in autumn are a great food source.
A further recommended evergreen hedging plant for wildlife is the Cotoneaster franchetti (Franchet's cotoneaster). Franchet's cotoneaster is a large hedge with beautiful arching branches, and grey-green or sage-green foliage, tinged with pink around the edges. Preferring full sun or partial shade, this stunning plant produces blush white flowers in summer, followed by orange/red berries throughout autumn and winter. Used for larval food, Franchet's cotoneaster benefits several moth species, and is also a valuable source of nectar for bees. Local birds also enjoy its berries.
A dense, large, attractive hedge, Ilex aquifolium (Holly) is popular for its dark green, spiky foliage and glossy red berries. Holly allows excellent nesting areas for birds, and hibernation spots for small mammals, including hedgehogs. Holly blooms small, white flowers in spring, providing a great source of nectar and pollen for bees and other insects.
Known as English lavender 'Hidcote', Lavandula angustifolia 'Hidcote' is a popular, low hedging plant that grows dark purple flower spikes, attracting butterflies and bees. English lavender 'Hidcote' has a beautiful, sweet scent and stunning, grey-green foliage, and thrives in full or partial sun, with any normal or dry soil.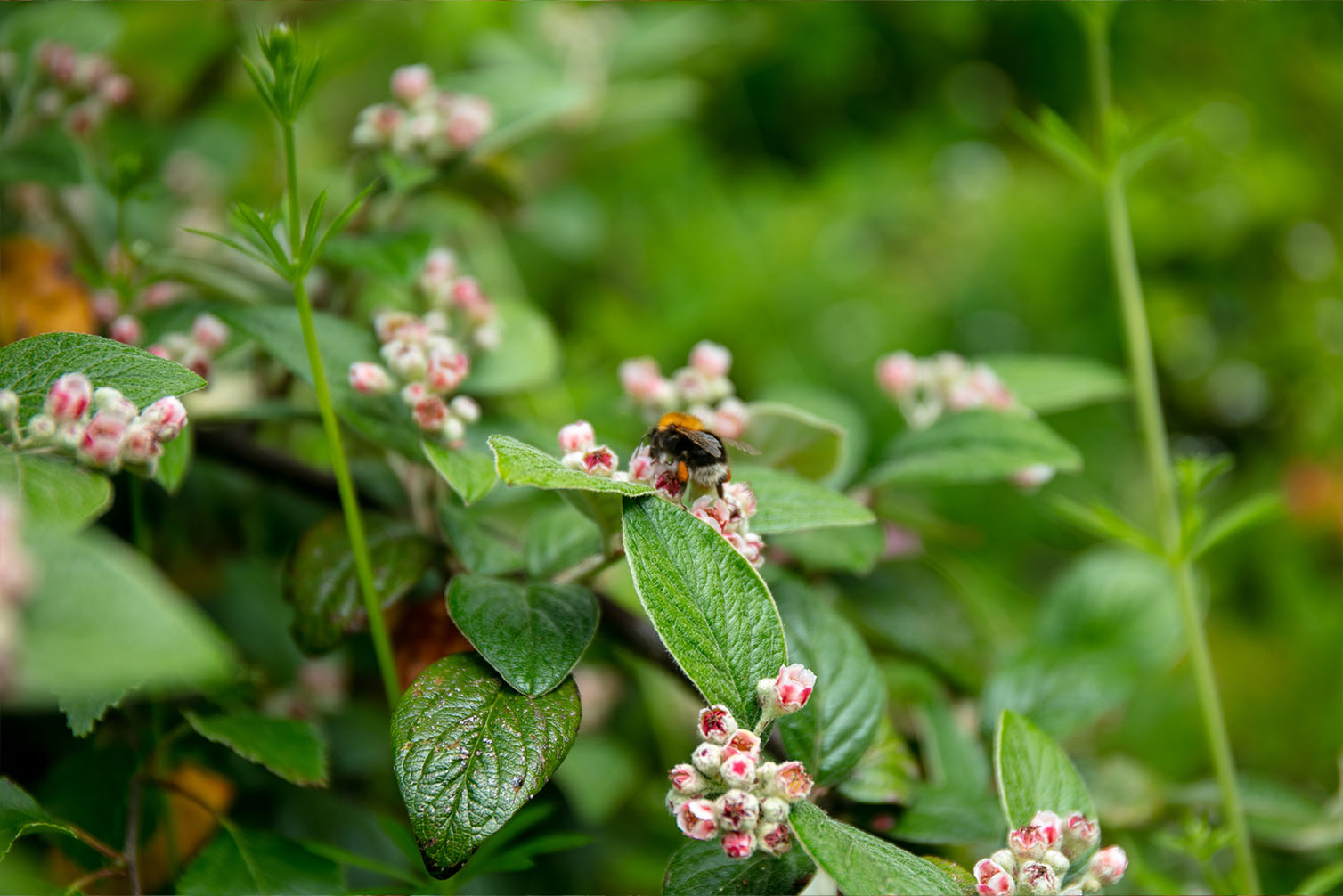 Bumblebee perched on a Franchet's cotoneaster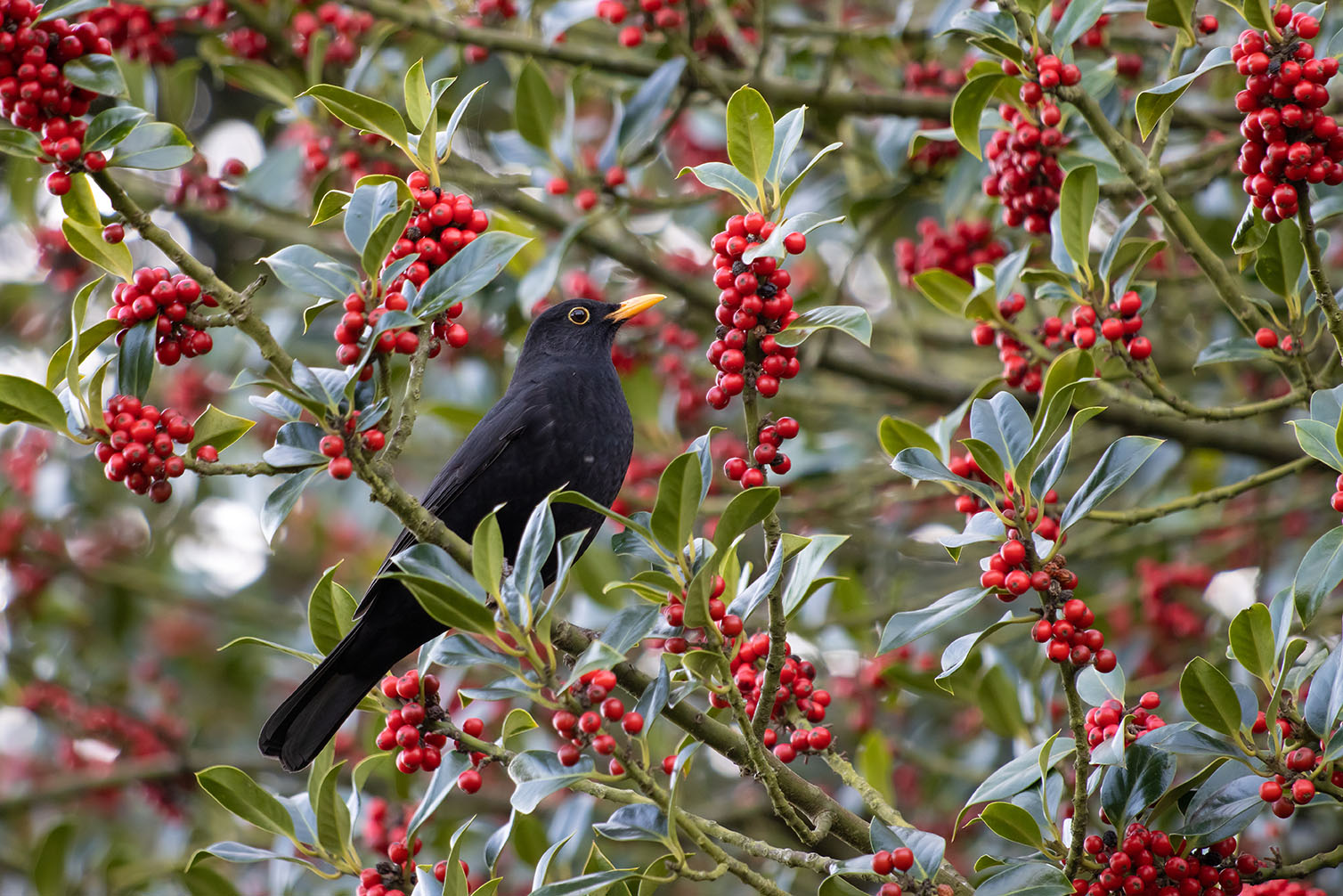 Blackbird in a Holly tree eating berries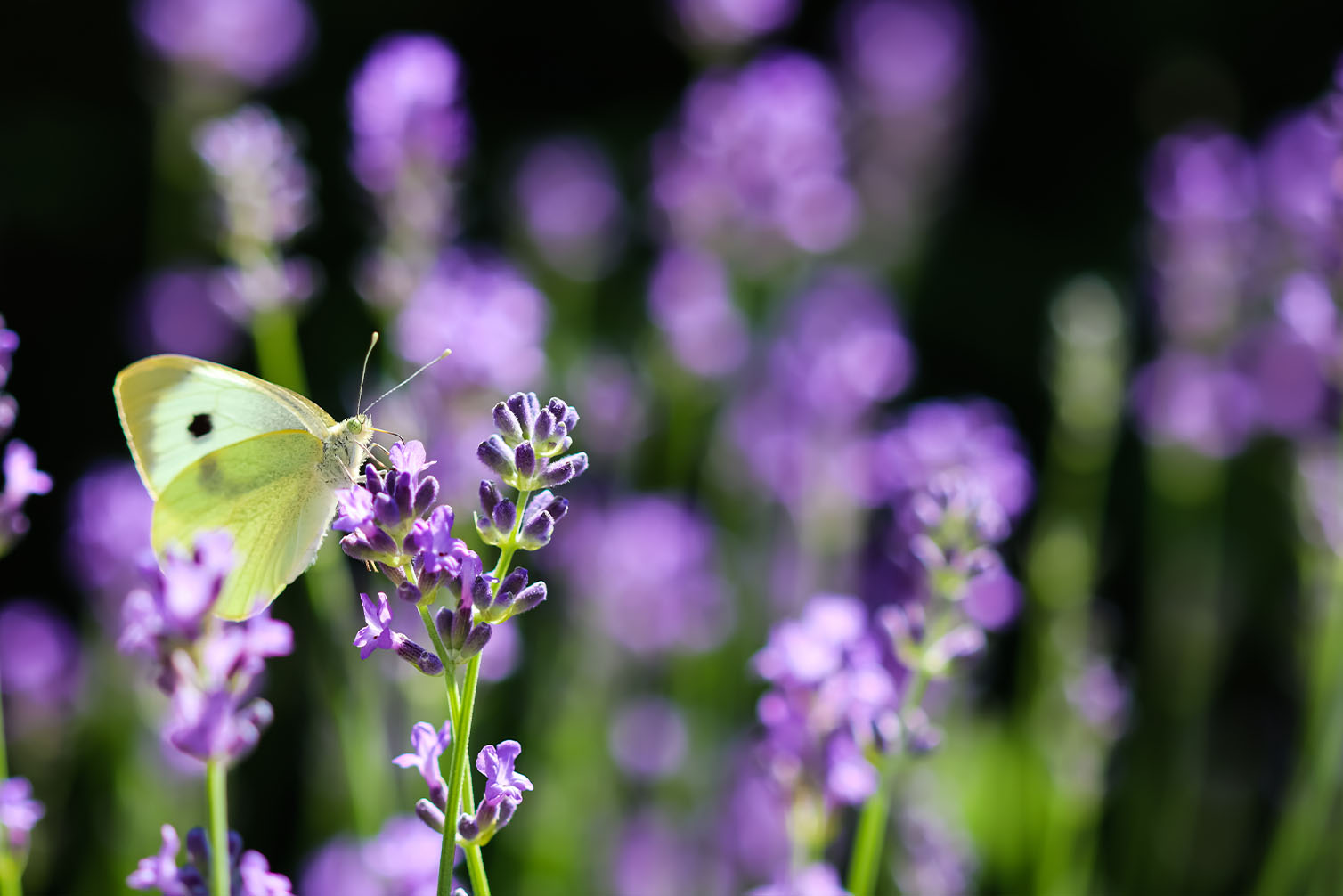 Common brimstone butterfly on a lavender flower
Greenwood Favourites
A few of our particular favourites in the evergreen hedging category are Prunus lusitanica 'Angustifolia',  Prunus laurocerasus 'Rotundifolia', Osmanthus x burkwoodii and Euonymus japonicus 'Jean Hughes'.
Prunus lusitanica 'Angustifolia'
A neat, large, bushy evergreen hedge, Prunus lusitanica 'Angustifolia' (commonly known as Portugal laurel) is a popular hedging choice if you're looking for a more compact growth habit.
Portugal laurel boasts shiny, dark green leaves, and blooms small, white flowers in summer; red berries follow later in the year, which deepen to a dark purple in autumn.
Portugal laurel grows to 4-8m in height, and prefers full sun or partially shaded areas.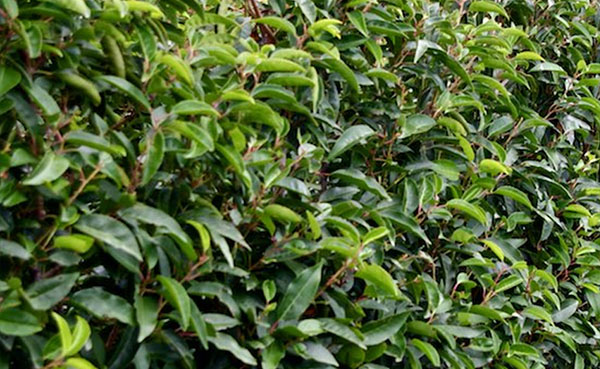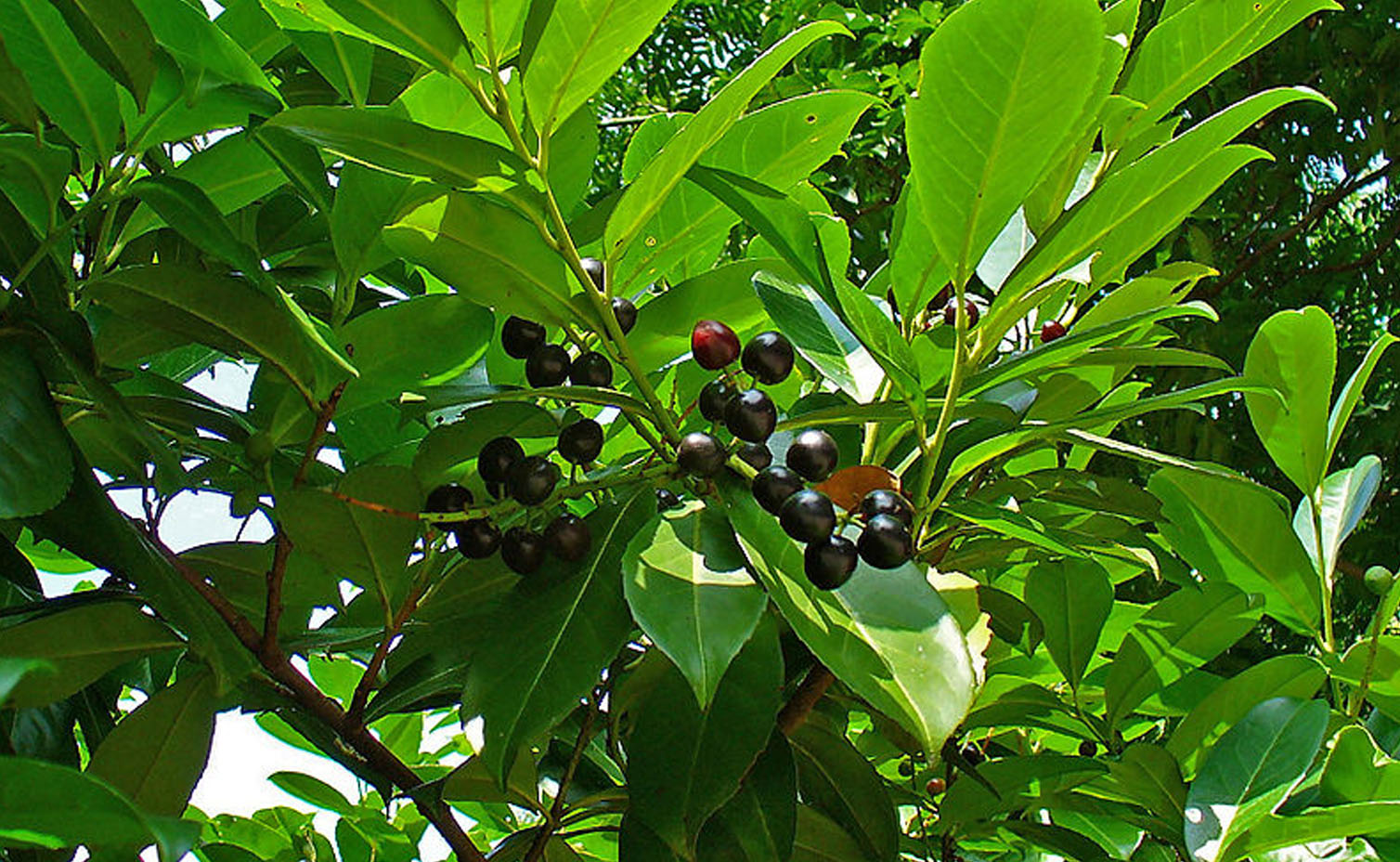 Prunus laurocerasus 'Rotundifolia'
Upright in habit, Prunus laurocerasus 'Rotundifolia' is a large hedge, growing up to 5m in height. Prunus laurocerasus 'Rotundifolia' is distinct for its rich, glossy green leaves and provides year-round interest with small, white flowers in spring, and red berries during the winter months.
Prunus laurocerasus 'Rotundifolia' can cope with full sun to full shade—an easy-going option.
Osmanthus x burkwoodii
Osmanthus x burkwoodii is a slow growing, large hedge, with dark green, leathery leaves. Osmanthus x burkwoodii grows to around 3m in height and blooms clusters of small, white, highly scented flowers in spring, followed by black fruits in autumn. Thriving in full sun or partial shade, Osmanthus x burkwoodii grows best in any well drained, fertile soil.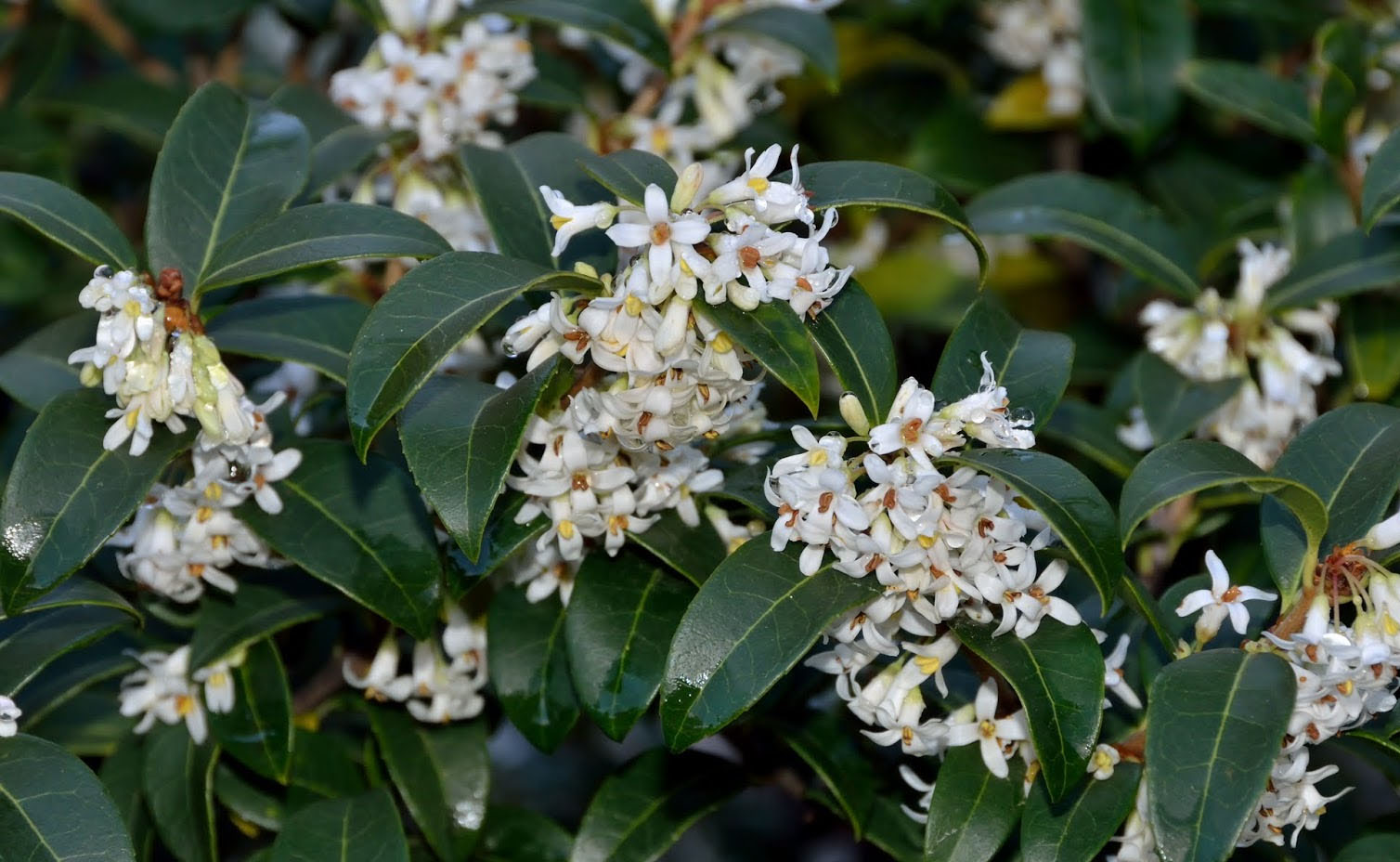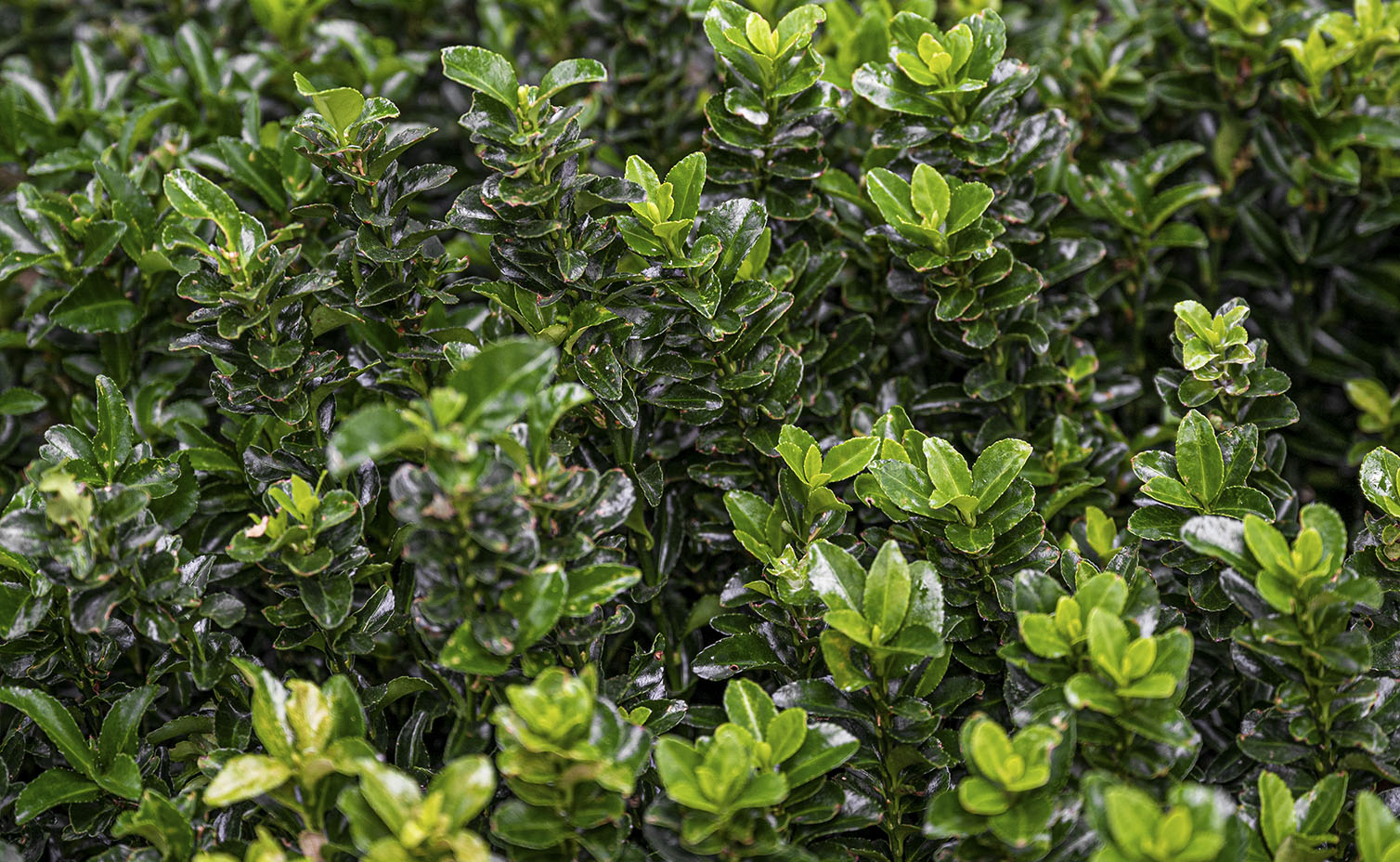 Euonymus japonicus 'Jean Hughes'
A small, dense, compact hedge, Euonymus japonicus 'Jean Hughes' is ideal for edging and formal hedges. Euonymus japonicus 'Jean Hughes' has small, dark green, glossy leaves, with four petaled white flowers in summer—followed by striking pink berries later in the year, adding a stunning pop of colour to your landscape. Euonymus japonicus 'Jean Hughes' prefers full sun or partial shade and thrives in most soils.
As you can see, evergreen hedging holds a great host of advantages for your landscape design, whether it be for privacy, reducing pollution or creating a haven for wildlife. There is such a wide selection that you can choose from, offering different colours, textures and benefits to your green space.
If you would like more information on different varieties of evergreen hedging to add to your landscape plan, get in touch with the expert G Team today!