Phormiums are striking in their own right, but they can also blend beautifully with a plethora of plants 
Phormium pairings
Versatile, eye-catching and easy to maintain, phormiums have a place in any formally landscaped environment. What's more, they can make a stunning addition to a wide variety of garden designs. With careful selection and layout, phormiums mix equally well with perennials, shrubs, succulents and grasses. You can create any number of stylish landscapes, from naturalistic open spaces and colourful wildflower borders to elegant terraces and textural rock gardens.
Sometimes, however, the more choice there is, the harder it can be to make decisions. While the options are endless when it comes to successful phormium pairings, this blog hopes to give you a few ideas that may inspire you when choosing which plants to place alongside your phormiums.
Which plants look good with phormiums?
Almost any plant can be friendly with a phormium – it simply depends on the overall look you're going for. Before you start, there are a couple of key considerations which will affect your choices of phormium and their flowerbed companions.
Firstly, consider how much sunlight and exposure the space you are planting will be subject to. Phormiums are generally fairly hardly, but if you're developing a windswept coastal area, the accompanying plants will need to be equally tough. Equally, the foliage of some phormiums, such as Phormium 'Evening Glow', will be affected by shade.
You'll also want to keep the style of your environment in mind. Phormiums with an upright grow may work better for architectural designs or at the back of borders, while arching varieties create a softer look for a more informal meadow garden.
Phormiums come in a delightful range of sizes and colours. It's worth thinking about your colour scheme so that you can select phormiums to complement – or contrast with – your other plants.
Finally, it's always wise to consider how the plants will mature in terms of size and spread, and the need for ongoing garden maintenance. For many developments, plants which thrive without too much intensive intervention are pivotal to the project's long-term success and an environment which looks stunning all year round.
Below you'll find several ideas for how to mix and match your phormiums with other plants for interesting and effective outdoor spaces.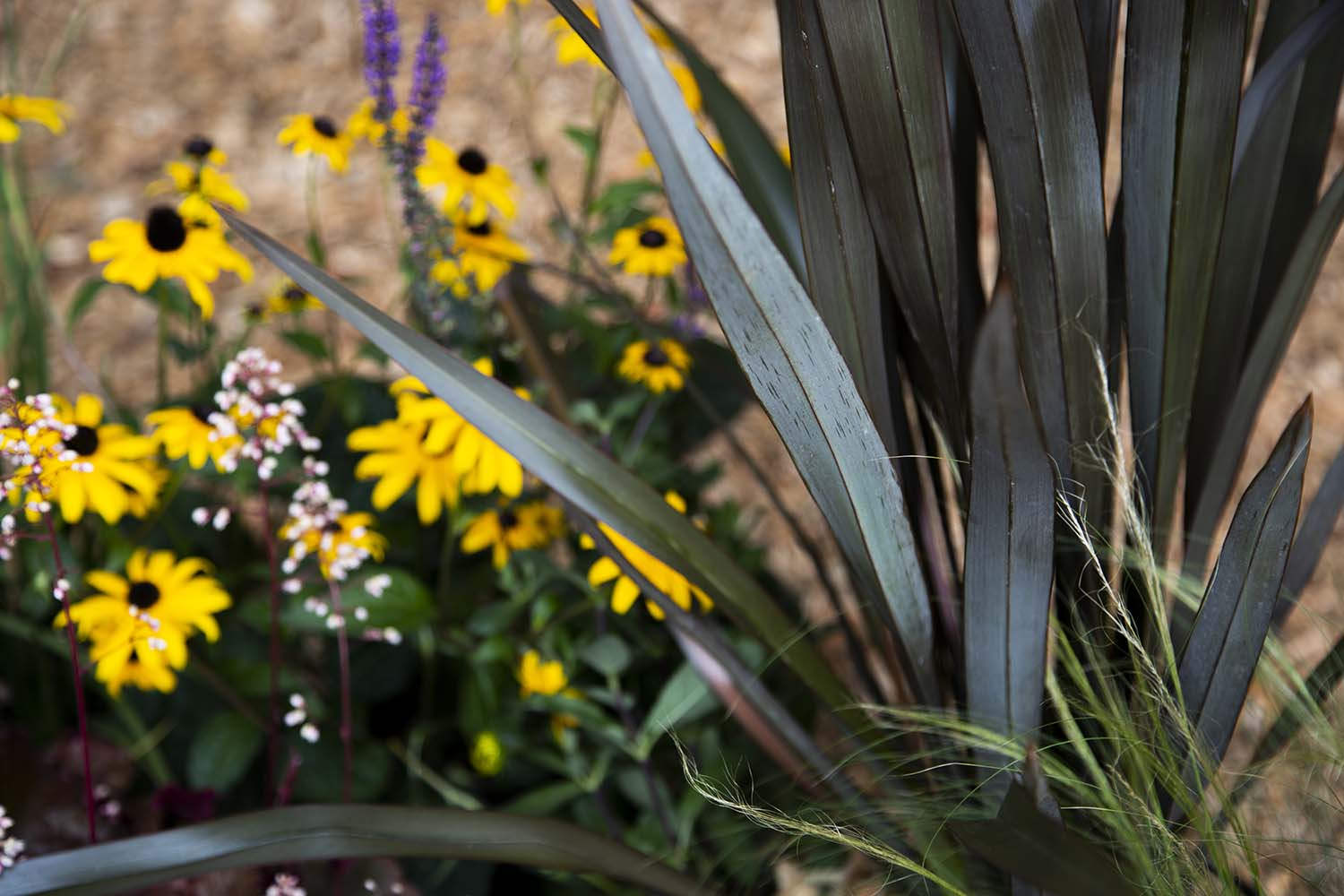 The stunning colour of Rudbeckia fulgida var. sullivanti 'Goldsturm' perfectly complements the purple foliage of Phormium tenax 'Purpureum', with Salvia nemorosa 'Caradonna' providing violet spire-shaped highlights.
Phormium on the prairie
New Zealand flax works brilliantly for a prairie- or meadow-style garden. These work best in areas that have full sun the majority of the time. Use a combination of ornamental grasses and colourful perennials to create maximum impact in larger spaces – or even in borders. A mixture of tall and short grasses, umbellifers, daisies and flowers of both globe and spire shapes will give you the best results.
We've used Rudbeckia fulgida var. sullivantii 'Goldsturm' (also know as Echinachea 'Yellow Storm') for a glowing splash of late-summer colour. This is beautifully contrasted with the rich purplish maroon leaves of Phormium tenax 'Purpureum', while the autumnal warmth is reflected in the yellow-edged foliage of Phormium 'Golden Ray'.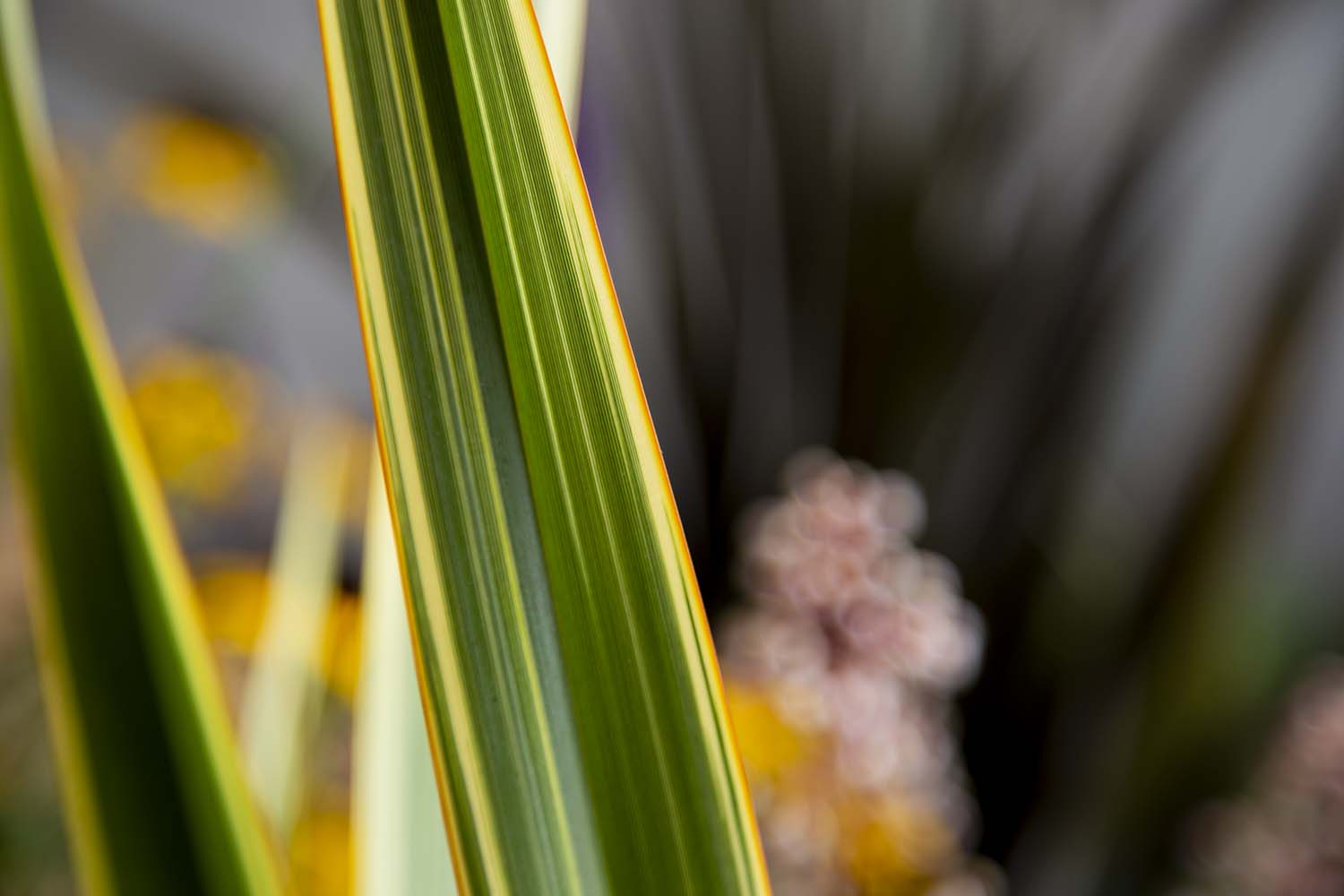 The autumnal glow of Phormium 'Golden Ray'.
Rudbeckia fulgida var. sullivantii 'Goldsturm' has the advantage of being just low- growing enough to avoid the need for staking, and works brilliantly alongside ornamental grasses. It also attracts bees and other pollinators, making it an excellent choice environmentally. Arctotis x hybrida 'Flame' and Arctotis x hybrida 'Wine' are species of African Daisy that would also work well in a garden of this type.
Rudbeckia fulgida var. sullivantii 'Goldsturm' has the advantage of being just low- growing enough to avoid the need for staking, and works brilliantly alongside ornamental grasses. It also attracts bees and other pollinators, making it an excellent choice environmentally. Arctotis x hybrida 'Flame' and Arctotis x hybrida 'Wine' are species of African Daisy that would also work well in a garden of this type.
For spire-shaped flowers, the perennial sage Salvia nemorosa 'Caradonna' has been used, its spiky purple blooms contrasting with the yellow flowers of 'Goldsturm' and complementing Phormium tenax 'Purpureum'. Another nectar-rich flower, it helps to soften the design and add to the meadow effect. Other highly effective plants to try include varieties of Eryngium (Sea Holly) and Kniphofia (Red Hot Poker)
The combination of feathery grasses with the strong, blade-shaped phormium leaves can be highly effective. Here we've used Stipa tenuissima (commonly known as Mexican feather grass or Texas needle grass), Miscanthus and Molinia caerulea subsp. arundinacea 'Karl Foerster' (purple moor-grass or feather reed grass). Use the compact varieties of Miscanthus when mixing with other plants in borders – its autumnal tones of orange and red also add ongoing interest to the arrangement. Other grasses would be equally eye-catching. For vivid impact, Japanese Blood Grass – imperata cylindrica 'Red Baron' – is a winner, and various Hakone and Fountain grasses will add depth and texture.
The low-growing evergreen perennials Heuchera 'Caramel' and Heuchera 'Binoche' adds interest to the front of the arrangement with their rounded leaves respectively of pink and pale green, and black, giving the finishing touch to a stunning low-maintenance garden.
Patchwork with phormiums
Phormiums also work beautifully in tapestry gardens, which can be adapted for smaller spaces, rockeries and terrace borders. These gardens use foliage to best effect to create pockets of contrasting textures and colour, so phormiums come into their own.
For fantastic colour, this arrangement uses Phormium 'Platts Black' and Phormium 'Evening Glow'. We've used a variety of lush green ferns alongside them, including the lacy pale green fronds of Athyrium filix-femina (lady fern), the darker green Blechnum spicant  (hard or deer fern) and Polypodium vulgare. The strap-shaped leaves of the lower-growing Asplenium Scolopendrium (hart's tongue fern) add another texture.
The chalkier grain and silvery colours of Lavandula angustifolia 'Hidcote' (English Lavender) complement the rich dark leaves of Phormium 'Platts Black' and the stunning perennial Heuchera 'Palace Purple', while contrasting wonderfully with the vivid greens of the ferns.
A touch of interweaving colour has been added with the bee-friendly Lychnis flos-cuculi, whose common name 'ragged robin' aptly describes the petals of the star-shaped flowers, which quality helps it blend beautifully with the woodland textures and tendrils of this garden.
The stunning contrasting colours of Phormium 'Evening Glow' and Phormium 'Platts Black' with a tapestry of textures created with English lavender and ferns.
A succulent tapestry garden 
For an alternative tapestry garden, you may choose to focus on succulents, great for areas prone to drought. Here are our suggestions for colourful succulents that pair well with phormiums.
✓ Agave americana (century plant)
✓ Senecio mandraliscae (blue chalk fingers)
✓ Graptopetalum paraguayense (ghost plant)
✓ Aloe striata (Coral aloe)
✓ Aloe polyphylla (Spiral aloe)
✓ Sedum x rubrotinctum (Stonecrop)
✓ Sedum nussbaumerianum (Stonecrop)
✓ Echeveria 'Afterglow'
A phormium country garden
New Zealand Flax doesn't sound like an ingredient for an English country garden, but for wonderful home frontages, phormiums can be combined with traditional shrubs and flowers for a look that combines architectural elegance and old-fashioned Englishness. This design is fantastic for city and courtyard gardens.
Our phormiums for this garden are Phormium 'Yellow Wave' and Phormium 'Bronze Baby'. Both are stunning without being overpowering – perfect for the more understated look. Combining a variety of shrubs allows for a lovely, yet subtle, blend of greens and leaf shapes, creating a charming helter-skelter effect. We've used various (sometimes risqué-sounding!) varieties of Nandina domestica, a firm favourite among our nursery managers for its beautiful richly tinted foliage. Here, the varieties 'Flirt', 'Obsessed' and 'Gulf Stream' were used. All boast leaves in shades of pink and red in certain seasons. The more subtly coloured Euphorbia amygdaloides var. robbiae (prosaically but more 'Mrs Robb's bonnet') adds interest with its rosette foliage formation.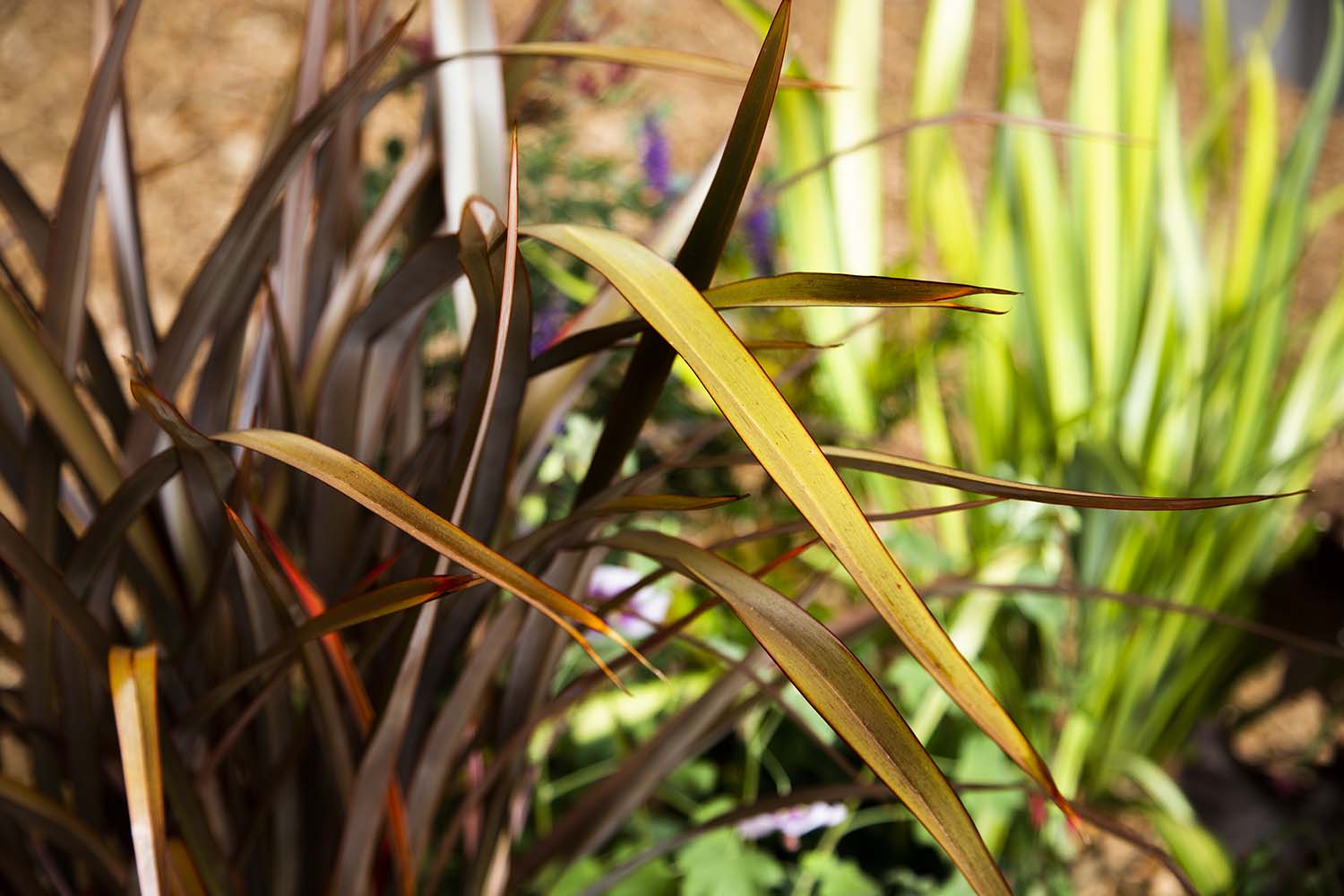 The wonderful red-brown and yellow tints of Phormium 'Bronze Baby'.
A palette of pinks and purples has been used for the flowers, complemented by the delightful red-brown tones of 'Bronze Baby'. The ethereal Lavatera maritima (tree mallow), with its long stalks and delicate mauve flowers, is combined with the gentle drooping blooms of vivid Fuchsia magellanica – or lady's eardrops.
Fortune's spindle creeper (Euonymus fortunei  'Emerald 'n' Gold') is perfect to climb the walls of a frontage or a decorative pergola. The hardy shrub Weigela 'Kosteriana variegata', with its particularly attractive pale pink flowers, completes the colour scheme.
Overall, a hardy yet delicate cottage garden effect is created, with a naturalistic flow.  
As you can see, phormiums lend themselves to an astonishing variety of landscapes – happy to blend into the background or to be the star of the show. Once you've defined your environment, your style and your constraints – be they exposure, sunlight, space or soil – you have a wealth of plants to combine with these fantastically flexible plants.
If one of our arrangements has inspired you, all the plants featured in our designs are available from Greenwood Plants. Phormiums are friends to so many perennials – enjoy creating your own pairings and creating stunning landscapes for your developments! Should you need any further help, we are always happy to provide one-to-one personalised advice.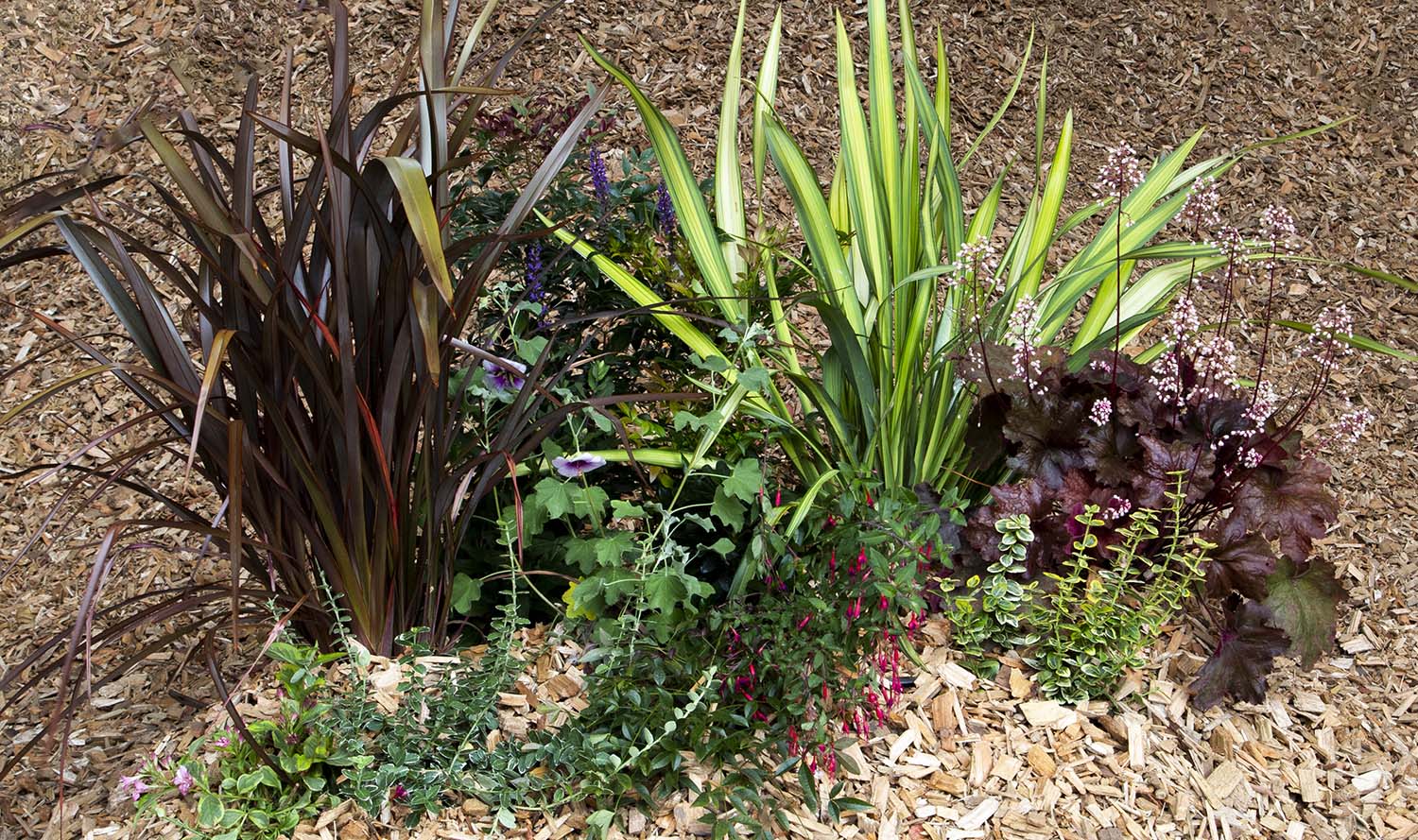 A delightful cottage garden effect, created with traditional shrubs such as Nandina domestica, flowing creeper Euonymus fortunei and delicate pink and purple flowers including Fuchsia magellanica and Lavatera maritima.