Plant Focus: Hebe speciosa
A handsome addition to your landscape

 
Named after the Greek goddess of youth, Hebe speciosa is a genus of around 100 known plant species. Hebe speciosa is commonly known as Hebe or Shrubby Veronica, and is mainly native to New Zealand, with some species originating from Australia or South America.  
Hebe is an evergreen shrub providing year-round, glossy green foliage, with either a bushy or compact habit—depending on the species. Hebe is usually a slow growing plant and different species grow to different heights, with the maximum being around 2m. Hebe is well suited to shrub borders or containers, with some species also being utilised for low hedging or ground cover.  
Foliage and flower colours vary depending on the species; foliage variations include blue-green, silver, pink or variegated, whilst flower colours include purple, pink, mauve or white. A Hebe's flower shape is quite distinct, being held on spikes at the tip of stems. The majority of Hebe species flower in summer, and occasionally offer late spring or autumn blooms. Hebe is an excellent source of pollen and nectar, benefiting a variety of different bees and also butterflies, including the small tortoiseshell butterfly. 
Key Characteristics of Hebe:
✓ Hardy, evergreen perennial plants
✓ Evergreen
✓ Compact or bushy shrub
✓ Plant in April or May
✓ Height range from 0.5-2m depending on the variety
✓ Flowers from late spring to autumn
✓ Low maintenance
✓ Grows best in well-drained, alkaline or neutral soils
✓ Full sun or partial shade preferred
✓ Excellent source of pollen and nectar
How to plant Hebe 
The best time of year to plant Hebe is around April or May, as the warmer soil encourages the roots to settle in more effectively. In terms of climate, the most ideal is warm summers and mild winters. 
It's important to note that certain species of Hebe are hardier than others; most have a hardiness rating of H3 or H4. If you have heavy frosts during winter, it's better to opt for a smaller-leaved Hebe, which are usually more hardy than the larger-leaved varieties.  
Hebe thrives in full sun, but can also tolerate partial shade. Seaside locations are great for Hebe as they are tolerant of salt. When it comes to soil, moderately fertile, alkaline or neutral soil allow for optimal growth, ensuring it's well-drained.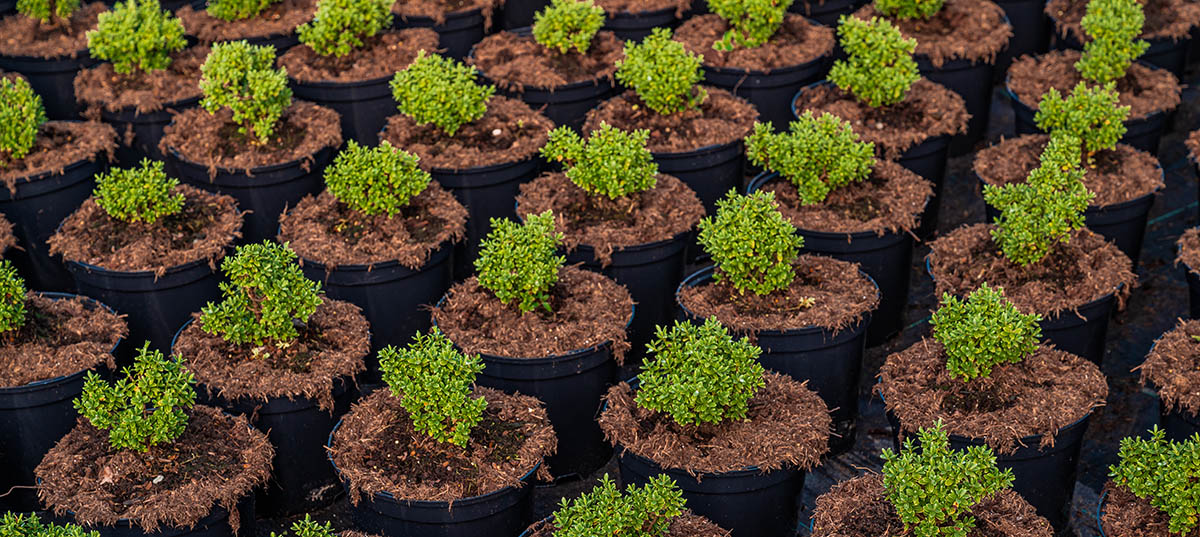 Hebe Pinguifolia Sutherlandii fresh potted
How to care for Hebe 
Hebe is fairly easy to maintain and doesn't require too much attention to help it thrive. Pruning once a year after flowering can help to encourage new growth; up to a third of foliage is a good guideline to follow. Any frost burnt stems can also be pruned after a harsh winter, towards the end of March. Usually, Hebe doesn't require plant feed; however, if Hebe is kept in a container, it can be beneficial to feed every spring. A regular weekly watering schedule is ideal—this will keep the soil moist—and will aid in maintaining healthy foliage and optimal growth. 
Hebe generally isn't prone to any particular pests or diseases. However, keeping a close eye on Hebe during the winter months is important to try to prevent any infestations of aphids, whiteflies or spider mites.  
Our favourite

H

ebe

varieties
Hebe 'Wiri Charm'
Hebe 'Wiri Charm' is a compact, bushy shrub, growing up to around 1m in height. This stunning variety boasts dark green, glossy leaves of around 3-4cm in length, and deep, pink-purple flowers in summer. When it comes to positioning, Hebe 'Wiri Charm' grows best in full sun or partial shade, whilst in a sheltered spot. 
Hebe pinguifolia 'Sutherlandii' 
A dwarf variety and one of the hardiest in the Hebe genus, Hebe pinguifolia 'Sutherlandii' is a compact, rounded shrub, growing up to around 0.5m. Hebe pinguifolia 'Sutherlandii' has small, grey-green leaves on upright, purple stems and blooms white flowers in early summer. Full sun or partially shaded spots are preferred, and it can thrive in both exposed or sheltered locations.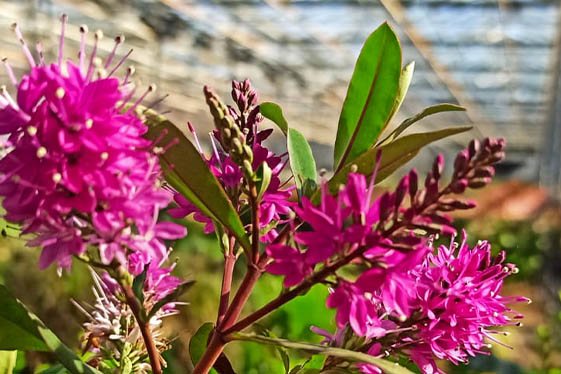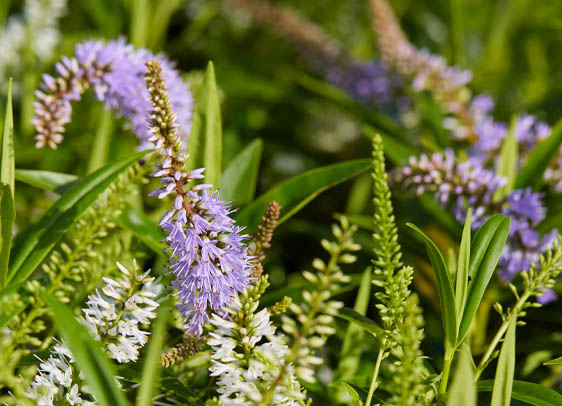 Hebe 'Sapphire' 
Growing up to around 1.2m, Hebe 'Sapphire' is one of the taller Hebe varieties. Hebe 'Sapphire' is an upright shrub, with narrow, dark green, spear-shaped leaves, which have a tinge of red throughout winter and spring. In summer, Hebe 'Sapphire' blooms dainty spikes of purple flowers. Hebe 'Sapphire' prefers a sheltered position in full sun or partial shade. 
Hebe salicifolia 
Commonly known as willow-leaved speedwell, Hebe salicifolia is a bushy shrub with upright branches. One of the tallest varieties, Hebe salicifolia grows to around 2m in height. Its long, pale-green foliage is lance-shaped, and in summer, Hebe salicifolia blooms clusters of white or pale-purple flowers. Hebe salicifolia thrives in both sheltered or exposed positioning. 
Hebe 'Mette'
Hebe 'Mette' is a compact, bushy shrub, growing to around 0.5m in height. Hebe 'Mette' has small, glossy green foliage and blooms dense racemes of lilac pink flowers throughout summer and autumn, which gradually fade to white over time. Hebe 'Mette' prefers sheltered positioning, in either full sun or partial shade. 
Get in touch with one of our G Team experts if you need any advice or more information on the varieties of Hebe we offer.