Plants for Urban Greening
Bring colour to urban landscapes
With over 85% of the UK's population living in cities and towns, public landscaping and urban forestry projects—known as urban greening—are more important than ever before. Greening our cities with trees, shrubs and landscaped green areas comes with a whole host of benefits to local residents and the environment. For city dwellers, and particularly those in high density housing areas, benefits include increased opportunities for physical activity and stress alleviation, as well as general health and wellbeing improvements. Environmental benefits are seen through improved biodiversity, enhanced air and water quality and mitigation of impact from events such as flooding.
It's estimated that around a staggering 2.5 billion visits are made each year to urban green spaces, by around half of the UK's population.
Public Open Spaces (POS) are an example of urban greening—including community gardens, playgrounds, green corridors, allotments and parks—and these aid in revitalising cities and improving residents' physical and mental health. Suitable Alternative Natural Green Spaces (SANGs)—a further example of urban greening—are recreational sites, designed for residents to enjoy and visit regularly in order to safeguard Special Protection Areas (SPAs) and Special Areas of Conservation (SACs), as these can be sensitive to recreational activities.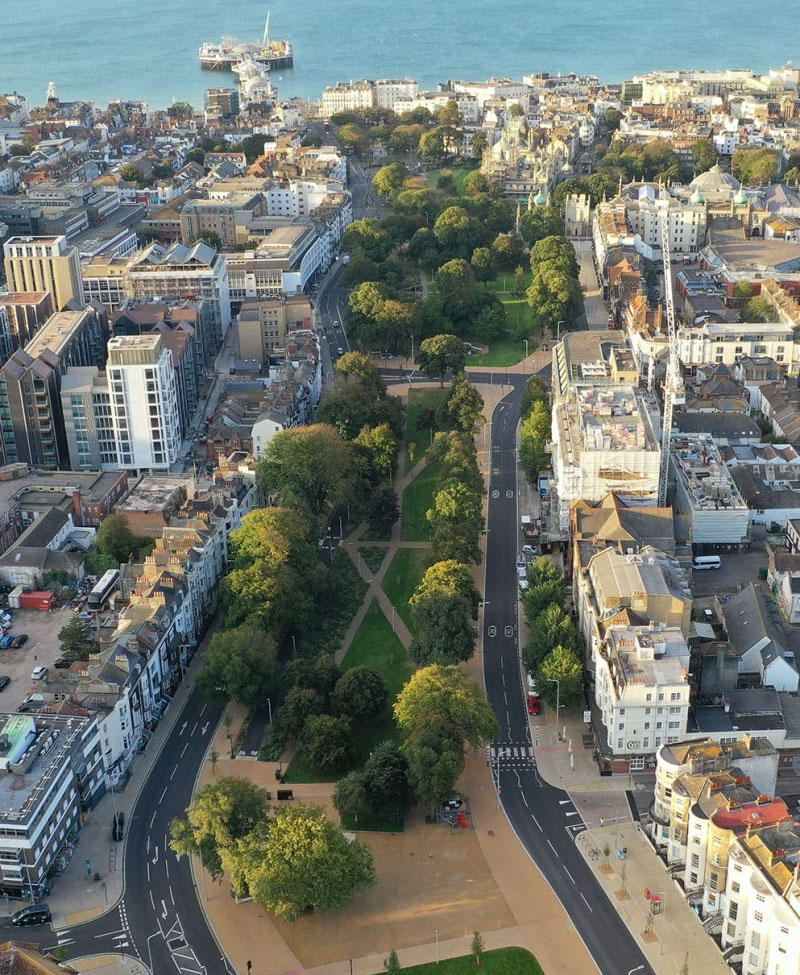 Valley Park Gardens – Brighton | Photo by Brighton & Hove City Council, Edward Bishop
Our urban planting recommendations
Perennials
Perennials offer many benefits to urban green spaces; they are low maintenance, fast growing, impress with their attractive foliage and flowers in a variety of forms and colours, and will flourish for many years in the right conditions. There are a great range of perennial plants which bloom at various points of the year, providing longer-lasting interest. Perennials work fantastically in borders and raised beds, with some being suitable for ground cover too. Euphorbia characias subsp. Wulfennii (Mediterranean spurge) is a fantastic perennial for adding some drama with its rounded heads of acid yellow blooms and architectural form. Some of our other favourites are hardy geraniums such as Geranium 'Brookside', Geranium × cantabrigiense 'Cambridge', Erysimum 'Bowles's Mauve', Heuchera 'Caramel' and Erigeron karvinskianus (Mexican fleabane).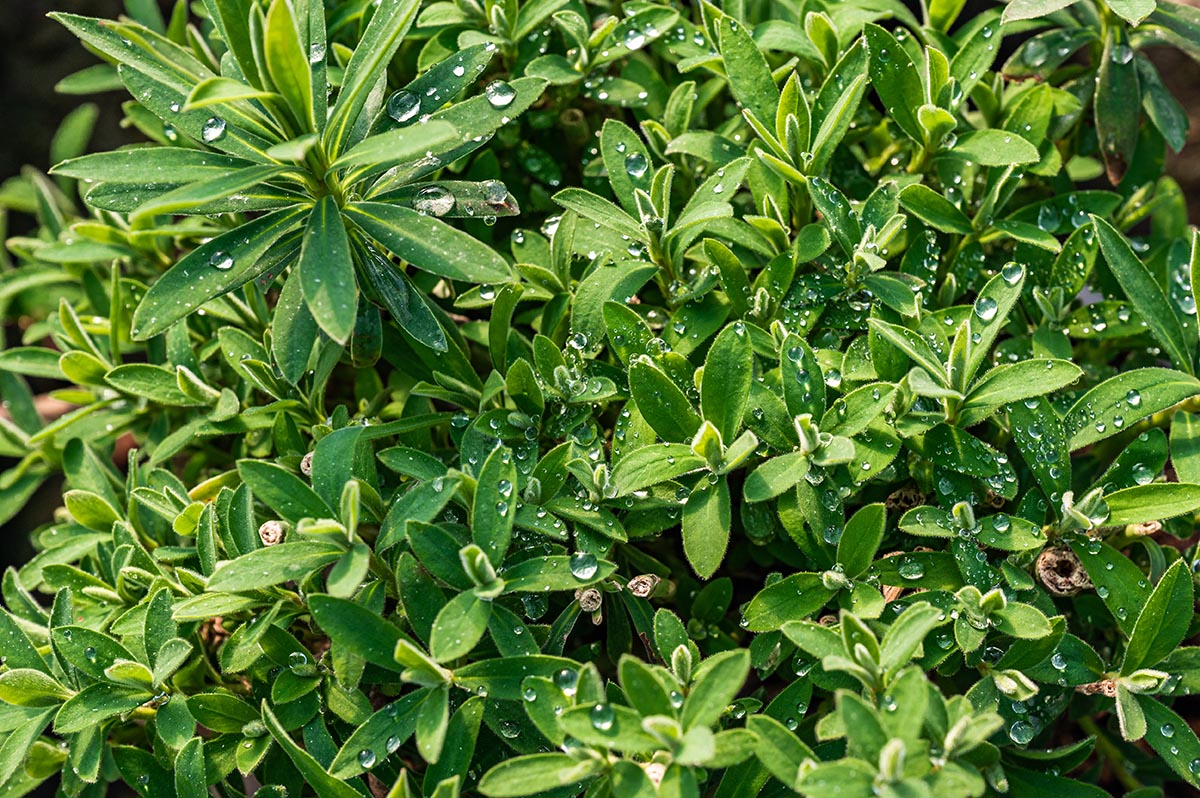 Euphorbia characias subsp. Wulfennii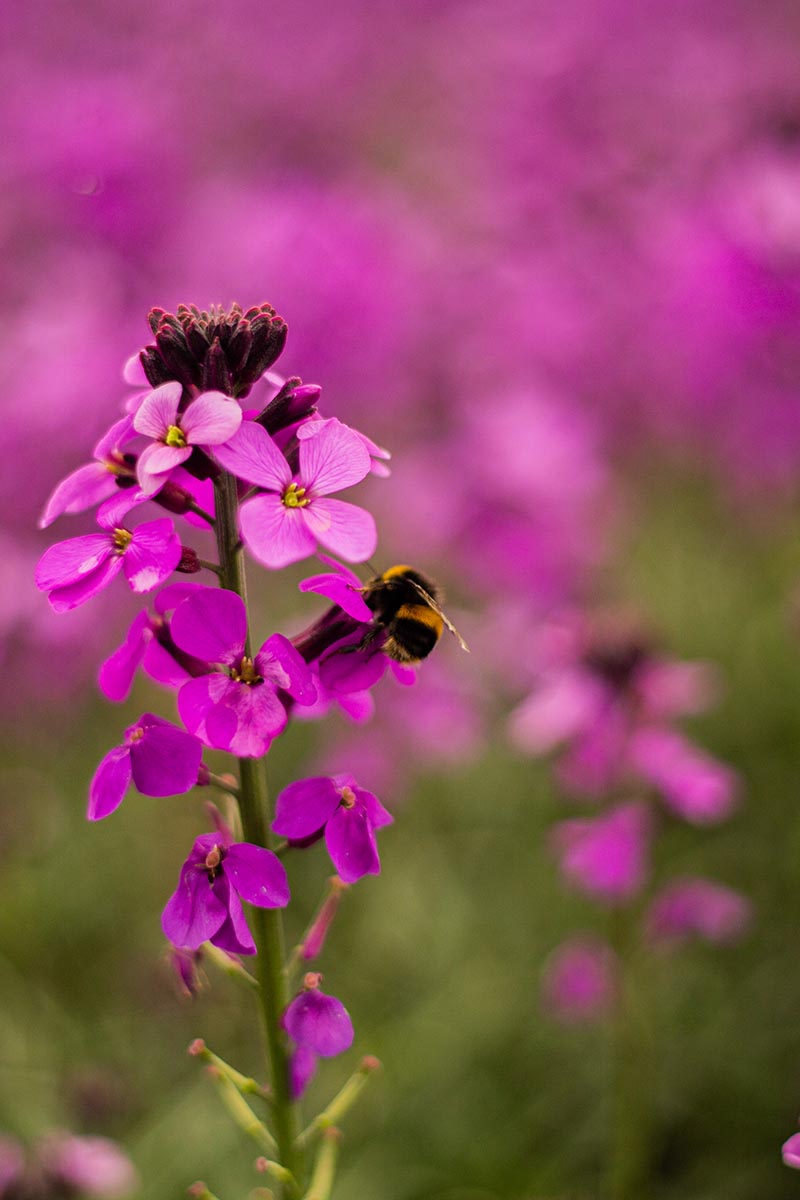 Erysimum 'Bowles's Mauve'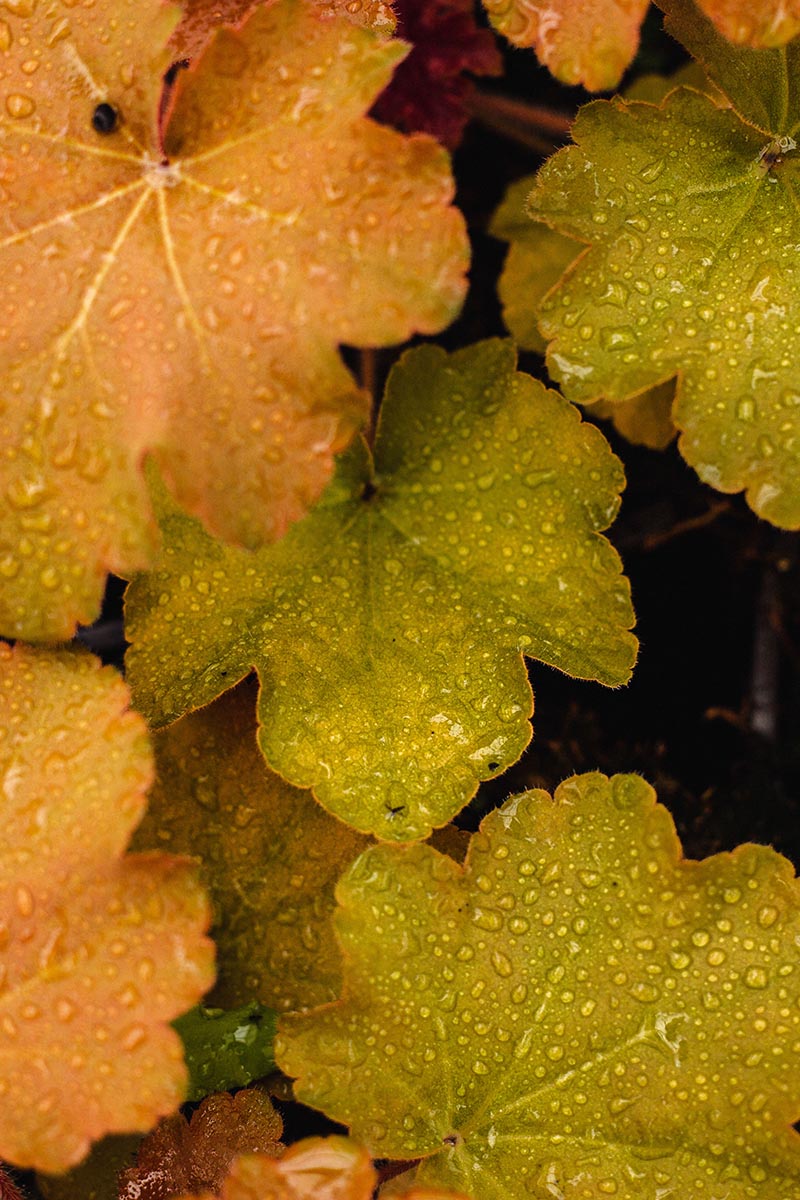 Ferns
Often seen in woodlands and forests, ferns are a great way to add texture to urban landscapes. With some being evergreen, their striking foliage can be enjoyed all year round. Ferns are fairly low maintenance and easy to grow, which makes them excellent choices for urban green spaces. Usually being shade lovers, they thrive in shady beds and borders, as well as under trees or shrubs—great for adding excitement to shadier spots. A few of our favourite evergreen ferns are Blechnum spicant (hard fern), Asplenium scolopendrium (hart's tongue fern), Polystichum setiferum (soft shield fern) and Dryopteris erythrosora (autumn fern). Dryopteris filix-mas (male fern) is an excellent choice if you're looking for a deciduous fern.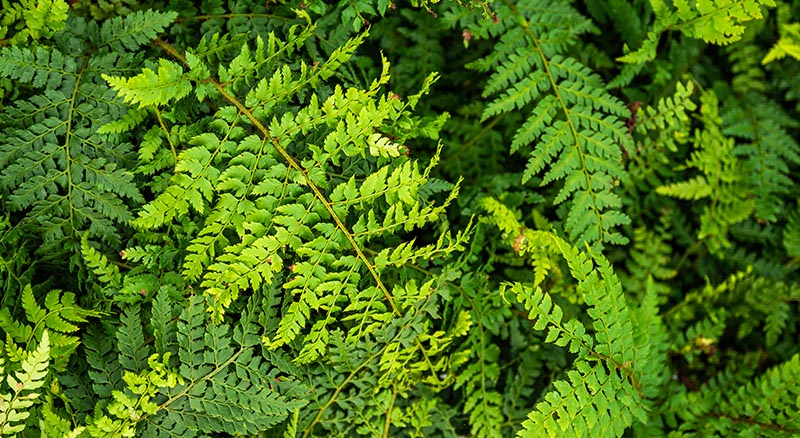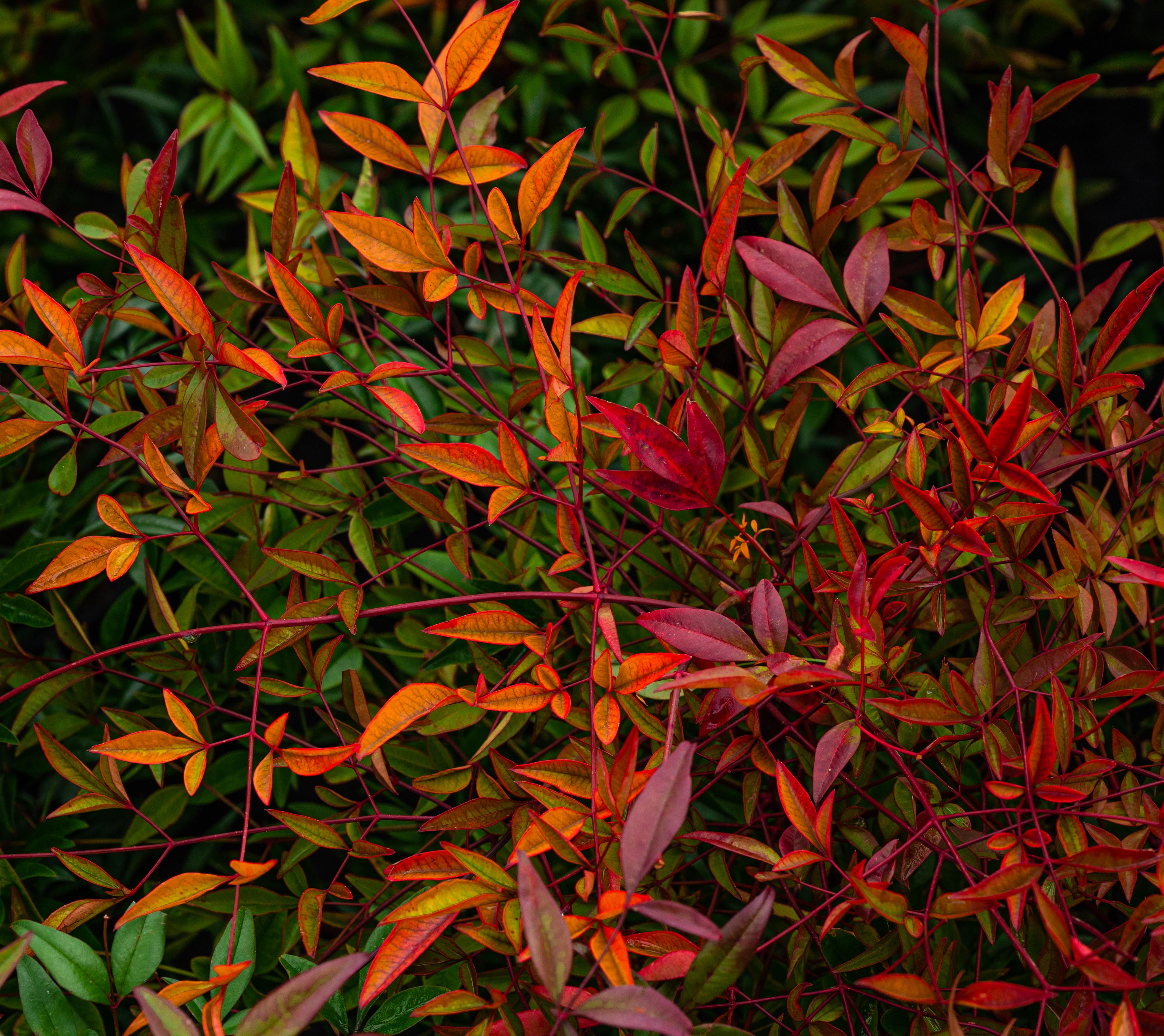 Shrubs
With attractive foliage, eye-catching blooms and occasional fruits, shrubs are a great addition to urban landscapes. Evergreen shrubs provide year-round interest, whereas deciduous shrubs can be great for showy, autumn foliage, providing orange or red pops of colour. Shrubs are also hugely beneficial for local wildlife and encouraging biodiversity, as they can provide food and shelter for a variety of creatures.
If you're looking for border-suitable shrubs, Viburnum opulus (Guelder rose) is an ideal deciduous option, adding some pink-red foliage in autumn, with small, white flowers and red berries—valuable for local birds. Another recommendation for urban spaces is Nandina domestica—a low maintenance, evergreen or semi-evergreen shrub. Depending on the variety, Nandina domestica offers many different leaf colours, and is well suited to flower borders and beds. A further evergreen choice is Pittosporum 'Garnetti'. Prized for its stunning foliage, Pittosporum 'Garnetti' has narrow oval, mid-green or grey leaves with cream, pink flushed edges, alongside clusters of small, purple flowers throughout spring and summer.
Grasses
Often overlooked in favour of flowering plants, grasses are perfect for "hard-to-plant" urban sites and bring multiple benefits, not only to insects, birds, and other native wildlife, but also to general urban environments. Grasses have fibrous roots which are great for holding soil in place, in areas which are prone to erosion. This helps to build organic matter in the soil and increase water infiltration. They are a low maintenance option, and once established, don't require additional water or fertiliser.
Grasses have evolved to grow in a variety of environments, such as drought-prone or low-nutrient soils, or seasonally flooded areas, which makes them perfect for tough sites in urban areas. Drought-tolerant grasses, such as Festuca glauca (Blue fescue), do well in heat-stricken areas near roadsides, or as plantings in car parks where they can be exposed to constant sun. Others, like Carex pendula (Pendulous sedge), can handle changes in water levels and can tolerate standing water, so work well in areas that receive a lot of water runoff.
Grasses have varied shapes, texture and forms and provide brilliant seasonal colour changes, such as the elegant, silvery blue-green that Blue fescue has to offer. They also create beautiful moving soundscapes in an urban environment. Grasses can be planted alongside flowering perennials, creating large swathes of diverse and fairly low maintenance planting.
"Steppe" planting schemes combine a mix of perennials and grasses and often include the addition of low-density shrubs and multi-stemmed trees, to create multi-layered plantings with year-round structure and interest.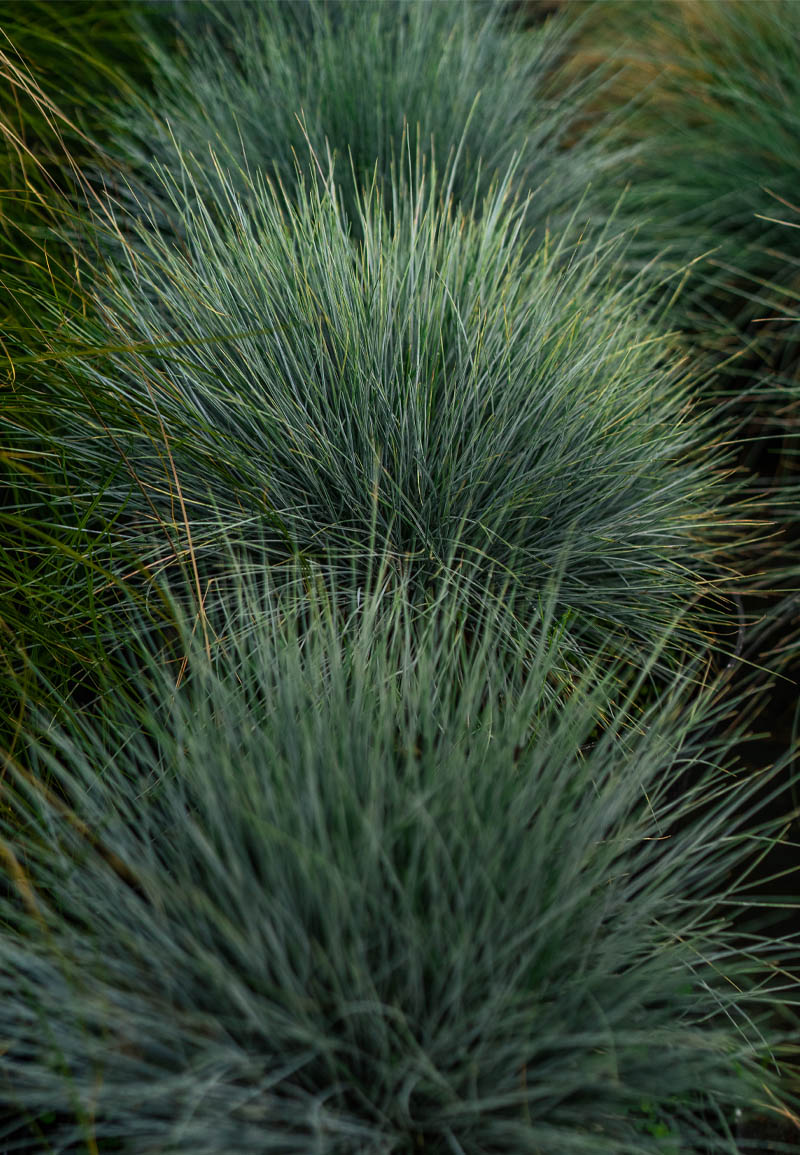 Festuca glauca (Blue fescue)
Trees
Trees are an important factor in urban greening, and are considered to be significant features in towns and cities. Not only are they aesthetically pleasing, they offer ideal habitats for local wildlife, reduce noise and pollution, provide shelter from wind and rain, absorb carbon dioxide and provide oxygen. Additionally, trees have an evaporative cooling process, which allows them to absorb radiant heat from the sun and consequently reduces the ambient temperature beneath them, helping to keep homes and streets cooler.
When selecting suitable trees for urban areas, we should consider the constraints of the environment, and whether the tree will be able to flourish, as well as its aesthetic benefits. Criteria to consider include rooting space, proximity of buildings, underground infrastructure, future space requirements and pollution levels.
When planting trees, to minimise any issues—such as the cracking of roads, pavements and water pipes—it's vital to carefully plan and research your chosen species and planting design, carry out inspections and regularly prune. Select plant species with no or minimal allergic potential, or low maintenance, native species. Maintain trees regularly to ensure end users perceive the urban green space as cared for, clean and safe, and ensure any signs of vandalism or antisocial behaviour are tackled quickly.
How can individuals contribute to urban greening and reap the benefits?
Garden space has a tendency to be condensed in urbanised locations, and with many residents desiring their own natural green space, they are constantly looking for the perfect plants to add structure and make the most of their compact, outside area.
As well as providing an aesthetically pleasing, enjoyable space for residents, urban green spaces offer benefits for wildlife, our ecosystem, flood prevention and additionally, a reduction in energy consumption, by acting as a means of home insulation and providing shelter and shade.
You may be purely looking for smaller, more compact plants, with a long season of interest, such as hardy geraniums, Heuchera and Erigeron. Ferns are great for adding texture with their striking foliage and grow well in dry shade. Additionally, evergreen shrubs and topiary can provide structure and year-round interest where space is limited. Plants with strong, architectural characteristics can work beautifully in these spaces, and can in some cases, make the space appear larger than it is.
If you'd like to discuss how we can help with large scale urban greening projects, get in touch with the expert G Team today! You can browse case studies from our previous projects here.