Propagation and Production of 28 Trays
Propagating our own plants at Fresh Acres nursery
Whilst propagation has always been at the heart of our production, in January 2020, Greenwood had the opportunity to take on a propagation unit at Fresh Acres and start to propagate our own cuttings. A very exciting expansion for the G Team! Over the past year we have been running successful trials and are now scaling up and expanding onto our outside benches.
How does the propagation process work?
In the early stages, our production database gives us a list of the plants which we should propagate within the twelve month period. This list then allows us to work out which cuttings we can take each week, depending on our crops, cuttings and time of the year. A monthly plan is usually followed as much as possible by the propagation team and reviewed on a daily basis.
Depending on the plants we require, each nursery has a dedicated team who collect the plant materials and transport them to us where they are kept refrigerated. Our propagation team use these plant materials to cut into pre-agreed sizes.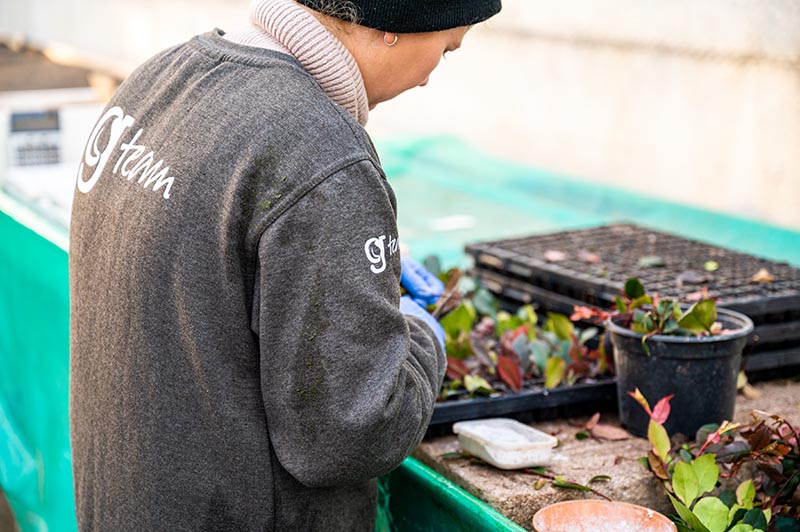 A member of the G Team cutting plant materials
Whilst this is happening, our clever machine, named "Plant Paper", is working behind the scenes to create small plugs of compost for our plant cuttings to be inserted into. A special compost mix gets fed into the Plant Paper machine, which then gets sucked through the tubes into its heating system. This heating system heats the paper and glues it together, resulting in a sausage shape, which then gets cut into small plug-sized pieces.
After this process, the propagation team's cuttings go into tray sizes of 126 or 60, depending on the plant. At the end of each day, we work out the total number of completed trays, and confirm whether more are needed or if we can then move onto another variety.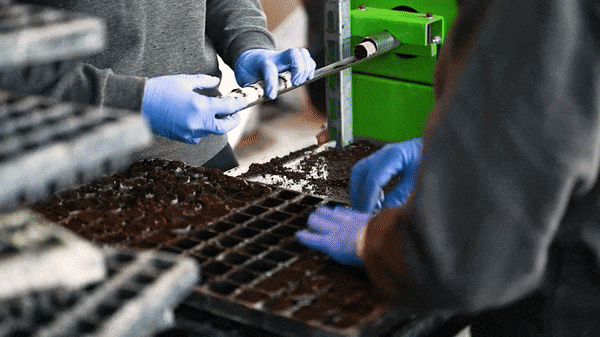 Our Plant Paper machine producing small plugs of compost
Roots will start developing and callousing—the first stage before they root out. In perfect conditions, we can root plants between 4 to 12 weeks. These conditions are met by our Tomtech computer, a state-of-the-art piece of equipment that controls and adjusts heating and misting. The Tomtech can calculate the amount of water used and manages this.
Once the plugs have rooted, they then get moved to the weaning area for an extra 4 to 6 weeks; enabling the plants to be robust enough to be transitioned to the next pot size.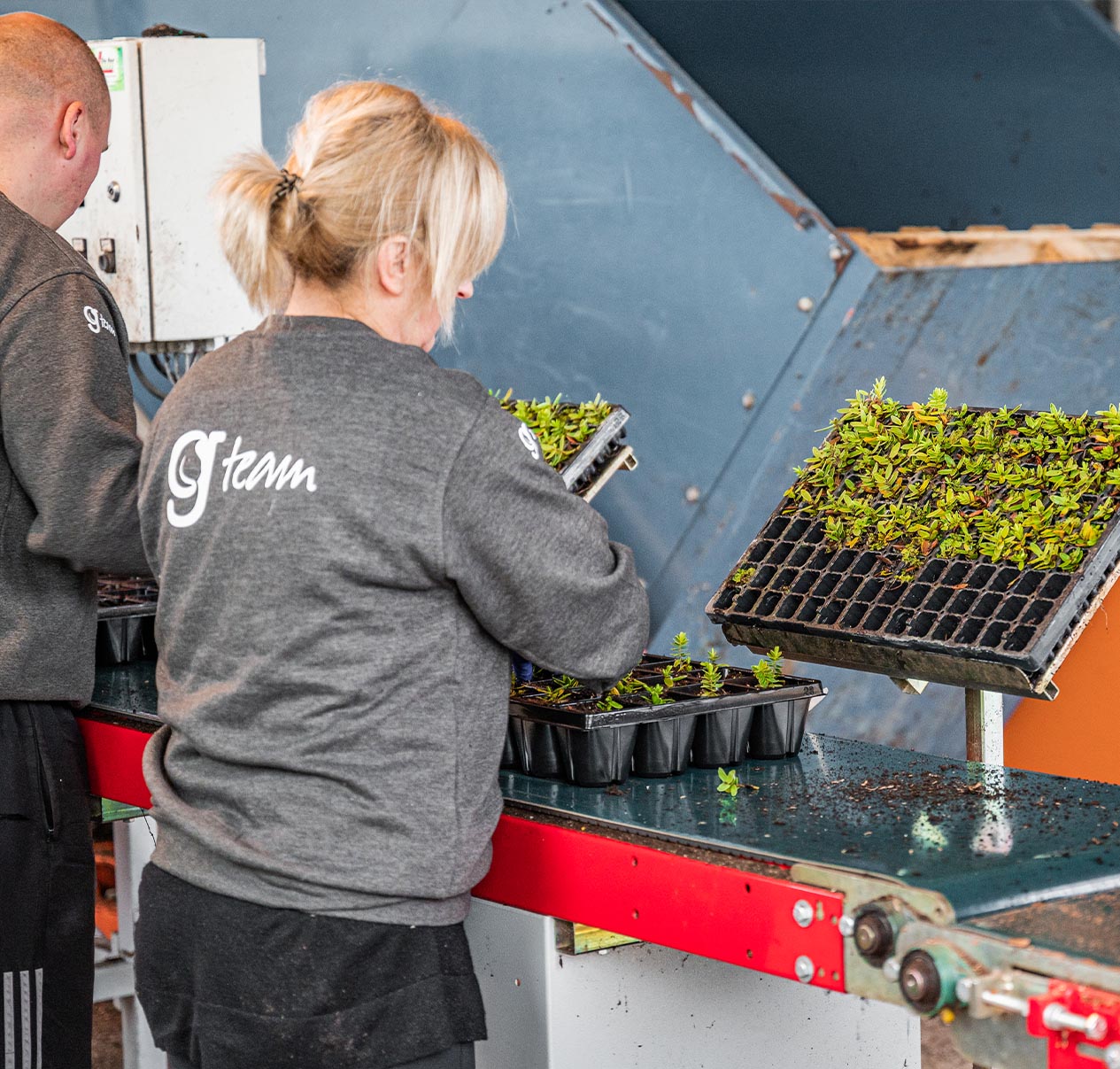 Plugs being inserted into the trays of 28 by our G Team
What happens next to the propagated plants?
At this point we have healthy and strong propagated plants in 126 or 60 plug trays. The next stage involves moving them into 28 plug trays, using our other machinery at Fresh Acres. This process starts with our "Bale Breaker"—taking in bales of peat and decompressing it, whilst adding air to the compost; this hugely supports the root development of our plants.
Following on from the Bale Breaker, our compost gets fed into the "Tray Filling" machine. The sensors from the tray dispenser drop the trays, and they travel into the Tray Filling machine. Here, they get filled up and shaken to level out the compost. Then, a special blade blows out the excess compost, leaving a gap for the bark to follow.
Once this process has taken place, the trays will travel to our "Dibbling" machine". This machine lifts up for the trays to go underneath, with little spikes which form holes in the compost. After the trays leave the Dibbling machine, by hand, our plants are individually taken out of the trays of 126 or 60, and inserted into the holes of 28. Next, the watering device and bark machine will come into play. The trays of 28 then travel down the conveyer belt and through the greenhouse, to be loaded onto our tables.
The plants will stay on these tables for between 2 to 6 months, depending on their variety, requirements and time of year. Our tables are covered with Francis Richardson Florimat mats. These innovative mats are filled with living microorganisms, helping to minimise disease and keep our plants healthy. Additionally, all tables have an intelligent flood system, where tubes flood the benches with water. This flood system allows our plants to be fed from underneath, whilst we can also irrigate from the top—giving our plants the best possible conditions. Over the top irrigation alone is ideal whilst our plants are young and haven't yet rooted.
After about 2 to 3 months, we will start to see white roots and well established plants, which are now ready to go to the next pot size. The G Team are incredibly excited for a new machine to land at Fresh Acres, where the plants are automatically picked out of their trays and placed into 2 litre pots. Currently, this process is done manually, by hand.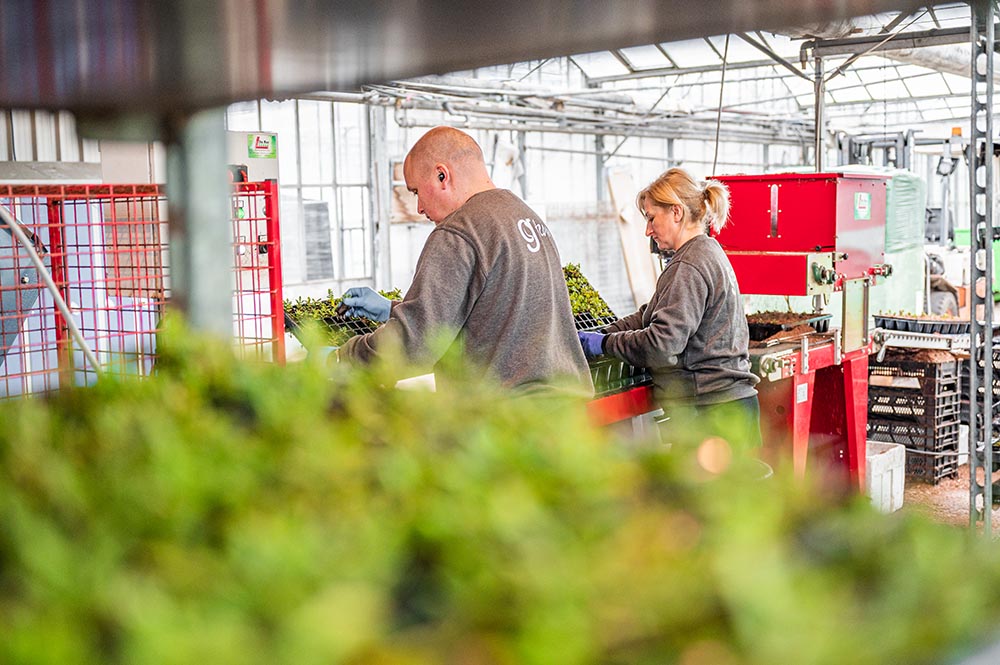 Plugs being inserted into the trays of 28 by our G Team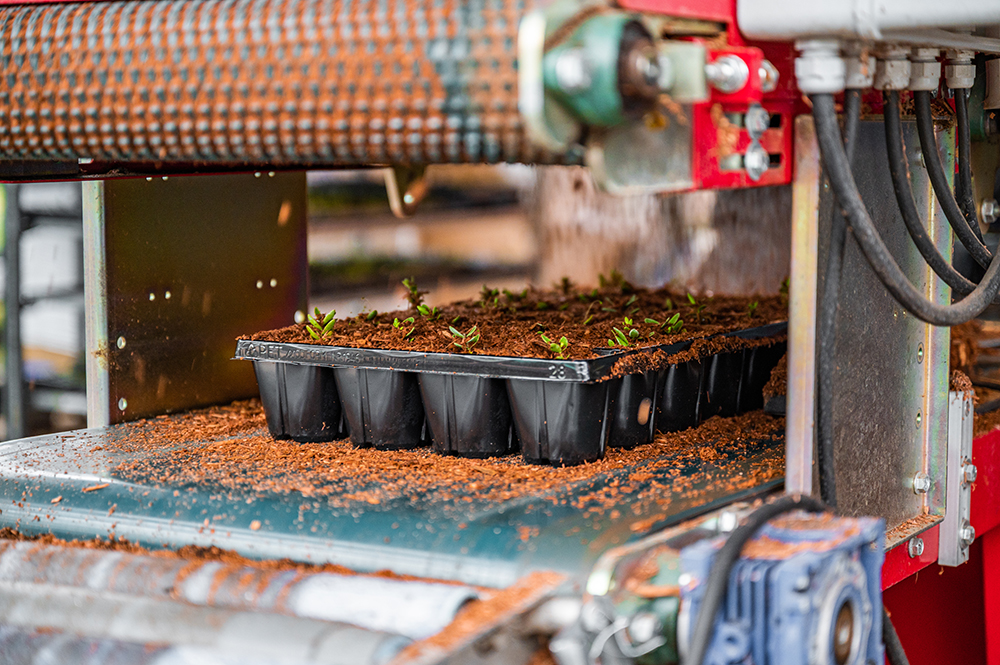 Mulching the trays of 28 with bark
What does this mean for Greenwood?
We are busy converting and building more tables for the 28 tray production, and our long term goal is for the entire greenhouse to be dedicated to this—a fantastic expansion for the G Team.
Always striving for the best solutions, we bring our clients the high quality they expect from us, and the quantities they need, when they need them. It's introducing and incorporating processes like propagation, that help us to achieve Greenwood excellence.
If you would like more information or have any questions on our propagation and production process, get in touch with the G Team today!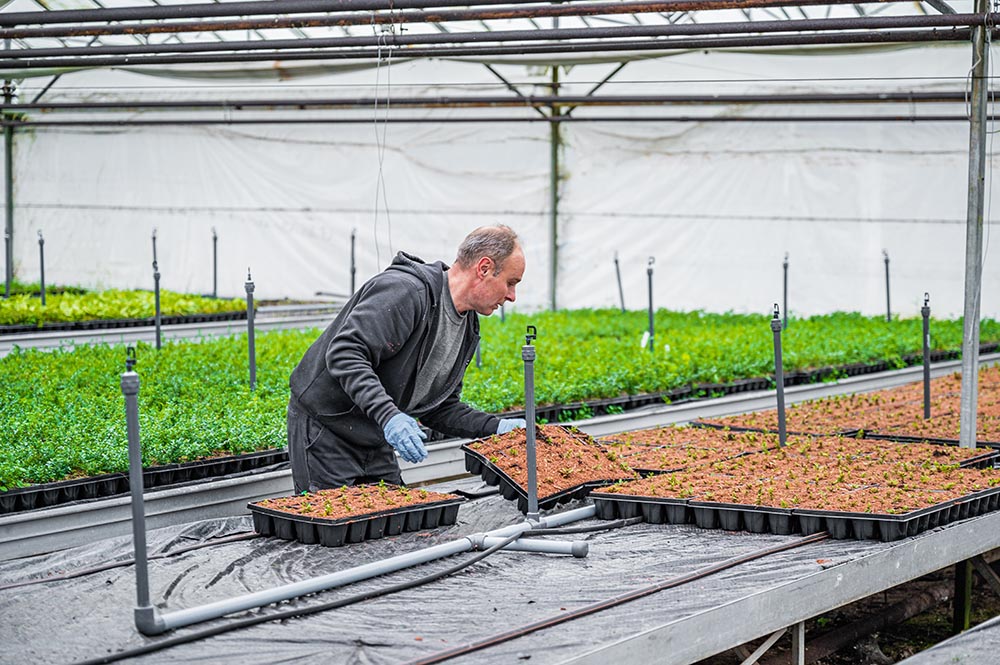 Trays of 28 being laid on our tables in our greenhouse