JS Landscapes – Madgwick Park, New-Build Development

Greenwood lends colour to new family homes in historic Chichester

Overview
Greenwood Plants supplied the plants for the soft landscaping of a sought-after development by Barratt Homes on the outskirts of the picturesque city of Chichester. JS Landscapes used ornamental trees and shrubs for stylish focal interest in large beds, leafy trees for attractive open green areas and a variety of attractive shrubs for low-maintenance, evergreen frontages.
The two- and three-bedroom homes are clustered in a distinct area of a larger development, and the landscaping was designed to harmonise with both the architecture, a modern reworking of the classing 'Sussex style' often seen in Chichester, and the surrounding rolling hills. Equally, JS Landscapes aimed to forge a distinctive style and character for this development, differentiating it from the other residential plots nearby.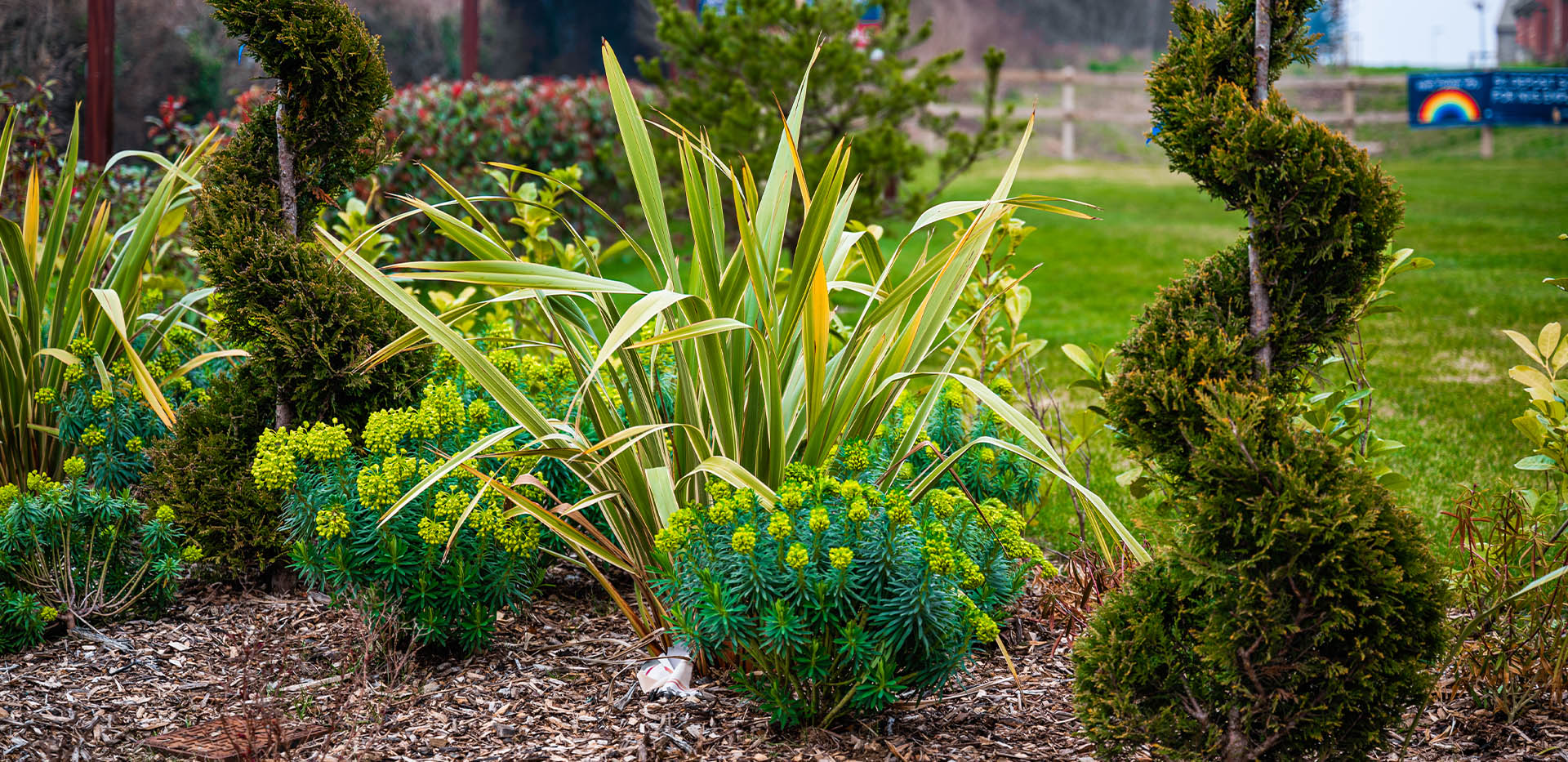 Client: JS Landscapes (working on behalf of Barratt Homes)
Project: Madgwick Park, New-Build Development
Location: Chichester, West Sussex, England
Barratt Homes' Madgwick Park offers a contemporary twist on the 'Sussex style' house, with red-brick cladding and slate roofs, sash style windows, some tile hanging and bay window detailing. A range of materials were employed by Barratt Homes to root the development within the local context, and the resultant homes, whilst conforming to a general theme, have individualistic elements.
Across the development as a whole are clear references to local flint cottages, painted dwellings, and strong red brick buildings, The properties are set back at different depths from the streets and bounded at the front with elegant garden railings. The overall impression is of polished Victorian townhouse properties brought into the present day, with a strong urban street feel softened by the surrounding open green spaces.
JS Landscapes were commissioned to create a plant scheme that reflected the elegance of the architectural styling whilst also integrating with existing local features, both natural and architectural. Greenwood Plants were selected on the strength of JS Landscapes' previous experience working with us on numerous other projects.
Greenwood Plants were able to supply premium quality specimens for all areas of the design, from naturalistic open spaces to more formal structured landscaping in the feature beds.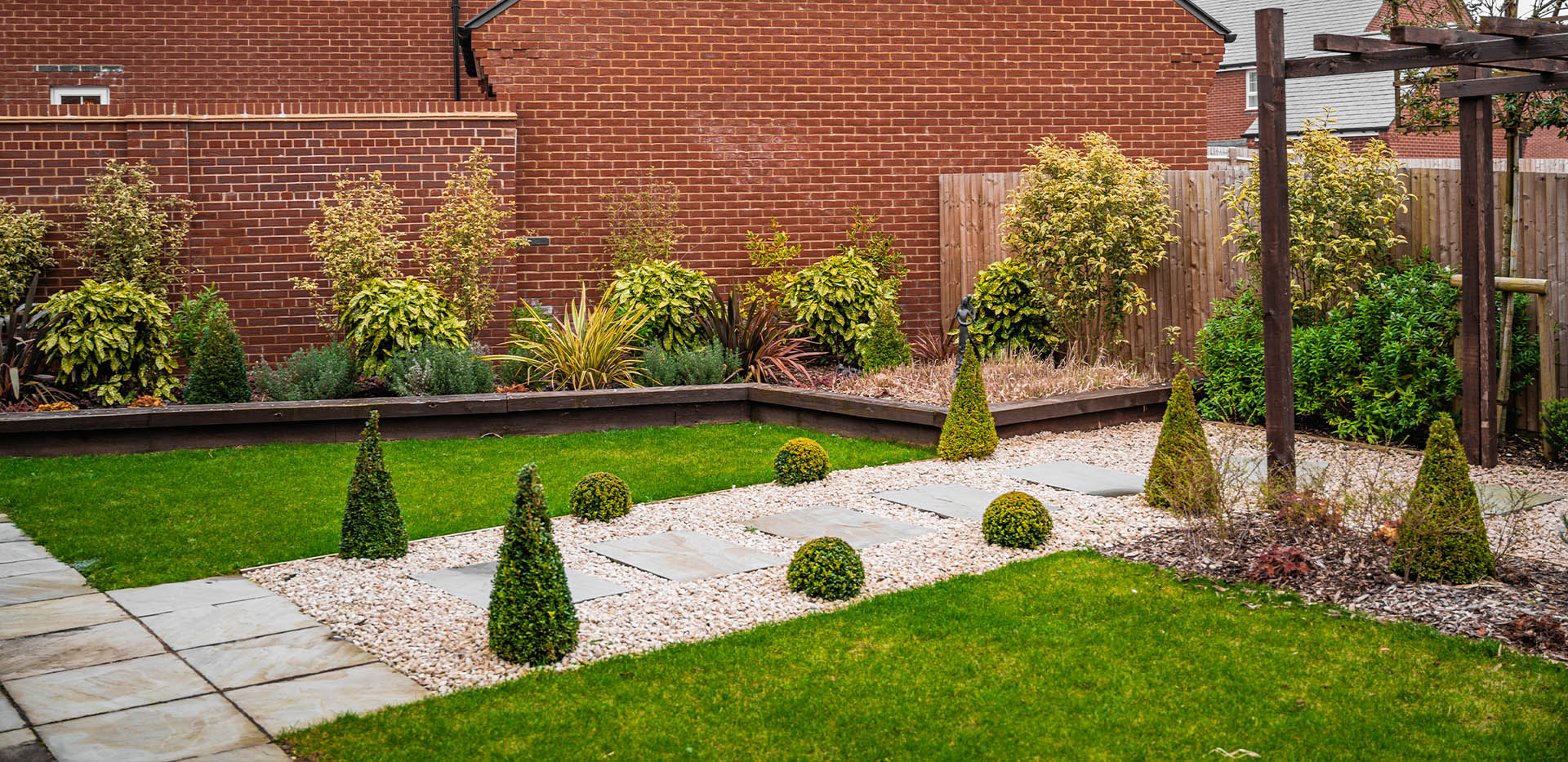 Our Approach
Greenwood supplied a range of architectural and colourful shrubs to create beautifully styled beds and borders. These included 107 Oregon grape (Mahonia  aquifolium 'Apollo')
Both formal and informal decorative demarcation was created with a variety of stunning hedging shrubs, including Photinia fraseri 'Red Robin', Escallonia (both Escallonia rubra  'Crimson Spire' and Escallonia rubra var. macrantha), and Ligustrum ovalfolium (Oval leaf privet). JS Landscapes selected plants for year-round interest, with the fiery spring foliage of 'Red Robin' adding fantastic early colour, and 'Crimson Spire' taking over for summer and autumn. The fresh yellow-green foliage of Oval leaf privet creates contrast all year round.
Compact shrubs were used to front the borders, including the elegant Potentilla fruticosa 'Sophie's Blush (shrubby cinquefoil) with its delicate blush-pink flowers adding cottage-style charm for summer and autumn.
Groundcover plants and low hedging both add texture for an environment that feels mature and abundant. Attractive groundcover plants were employed to create an environment that looks full and lush throughout the year. Greenwood supplied 40 Vinca minor 'Argenteovariegata' (lesser periwinkle), whose mat-forming habit and stunning, long-lasting violet flowers create both coverage and aesthetic appeal.
Stylish low hedging, using Sarcococca hookeriana var. humilis (dwarf sweet box), created clear boundaries whilst maintaining an open ambience. Blooming in winter and spring, the small creamy-white flowers of Dwarf sweet box add fragrance during the bleaker seasons, while the red and purple berries it displays for much of the remainder of the year continue to add aesthetic appeal.  An alternative variety, 'Purple stem', was also used, boasting attractive violet spring stems for additional interest.
Elegance was added with formal shaped trees and shrubs, including six evergreen Leyland cypresses  (Cupressocyparis leylandii 'Castlewellan') whose naturally narrow, columnar habit had been trained into stylish and eye-catching spirals. Buxus sempervirens (Box) were supplied both in cone formation and as ornamental balls to mark entrances to public areas. All created instant impact for this exciting new build development. Greenwood also supplied naturally ball-forming plants, including 12 Pittosporum tenuifolium 'Golf Ball' and 89 Pittosporum tenuifolium 'Tom Thumb', with its distinctive deep purple foliage, also added to the formal elements of the landscape and require very little maintenance.
In the open areas, JS Landscapes used trees to create welcoming spaces full of charm and colour (and shade for the warmer months). The feature trees Greenwood provided include two Prunus 'Pandora' (cherry). Their profusion of pale pink cherry blossom in spring, and foliage colouring from bronze to orange in autumn, make these the literal cherry on top of this elegant development.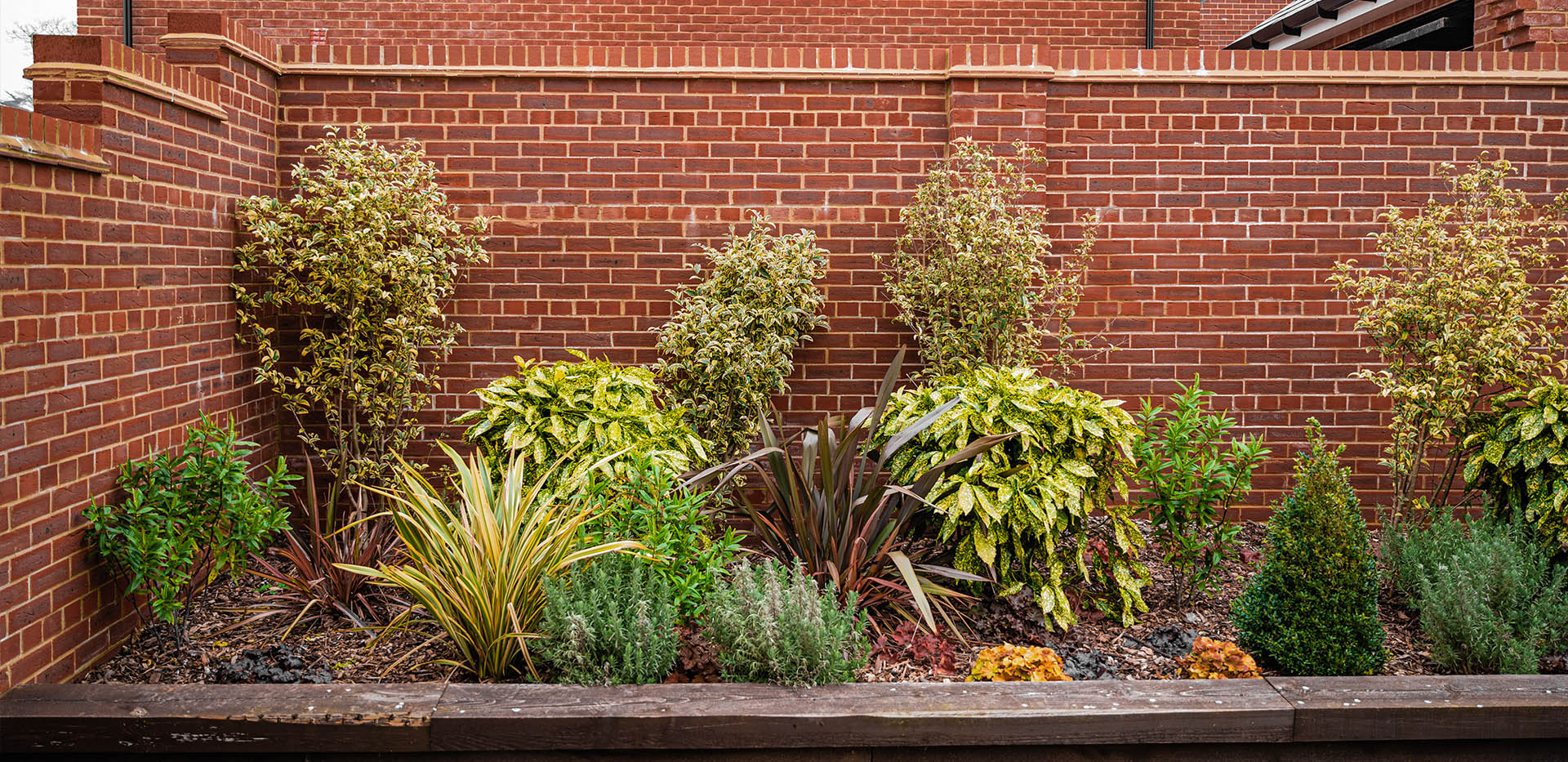 The Result
JS Landscapes were delighted with Greenwood's quality plants and service levels, and the end client was appreciative of the finished works.
Residents at Madgwick Park will benefit from JS Landscapes' subtle and sensitive soft landscaping design choices. These blend traditional and contemporary styles to create the sense of a distinct community within the wider development, whilst incorporating elements in keeping with Chichester's history, architecture and surrounding environs.
Approaching their homes, residents will be greeted first by beautiful trees in the open green spaces. As the landscape matures, the magnificent Fagus sylvatica Purpurea (copper beech) will be a wonderful focal point, with its beautiful deep purple foliage and imposing stature. The Magnolia 'Heaven Scent', will be a centrepiece in spring and early summer, boasting glorious rose-tinted, cup-shaped flowers that are a delight to behold, with an equally wonderful scent.
In addition to this and other headliners, 8 Betula pendula (Silver birch) brighten the landscape with their beautiful peeling white stems and colourful autumn foliage, while 56 field maples (Acer campestre) provide shade and boundary marking woody areas.
Further on, they are met by frontages combining both naturalistic and architectural elements, ensuring a striking and attractive aesthetic at all times of year. This has been achieved by JS Landscapes' selection of low-maintenance, evergreen plants such as Phormiums – including Phormium texax 'Variegatum', the aptly named Phormium 'Pink Panther' and the stunning pink-edged, green-and-white striped Phormium cookianum 'Tricolor'.
Other evergreen shrubs give further interest with their blooms, such as Ceanothus 'Blue Mound', whose wonderful violet flowers bloom from spring to early summer, and which make a wonderful backdrop for early perennials.
Flowering shrubs add seasonal interest. Some, such as Daphne odora f. alba (commonly referred to as Winter daphne) also add wonderful fragrance (in this case, the delightful white flowers give welcome respite to the senses during the colder months).
Some homes are also surrounded by stunning low hedging, while classic English garden favourites, such as Lavender and Hebes, complete the gorgeously replete environment.
The landscape will continue to mature, with fast-growing specimens such as the Leyland cypresses becoming more prominent features as time goes on, while other species become established, ensuring full coverage of the beds and frontages.  
Madgwick Park's situation combines the convenience of local schools and retailers with wonderful views over surrounding green spaces. With quick access to the A27 and excellent transport links to Chichester (itself with direct connections to London, Brighton and Portsmouth), residents here have everything they need on their doorstep – which also happens to be beautifully landscaped.