Kennet Landscape Solutions Ltd – Taplow Riverside

Greenwood Plants create 'superbly designed' landscapes for Award-Winning Riverside dwellings

Overview
Greenwood Plants supplied shrubs, hedging, trees and plants for an elegant riverside development by Berkeley Homes. Kennet Landscape Solutions Ltd created verdant walkways and stylish frontages for the modern, upmarket apartments in Taplow, complementing the idyllic riverside views. Kennet Landscape Solutions Ltd ordered leafy trees and luxuriant shrubs for a back-to-nature effect alongside the river, and architectural specimens for frontages with distinction. The apartments are ideally situated with wonderful views and several picturesque villages nearby, whilst being in close distance of thriving commuter towns.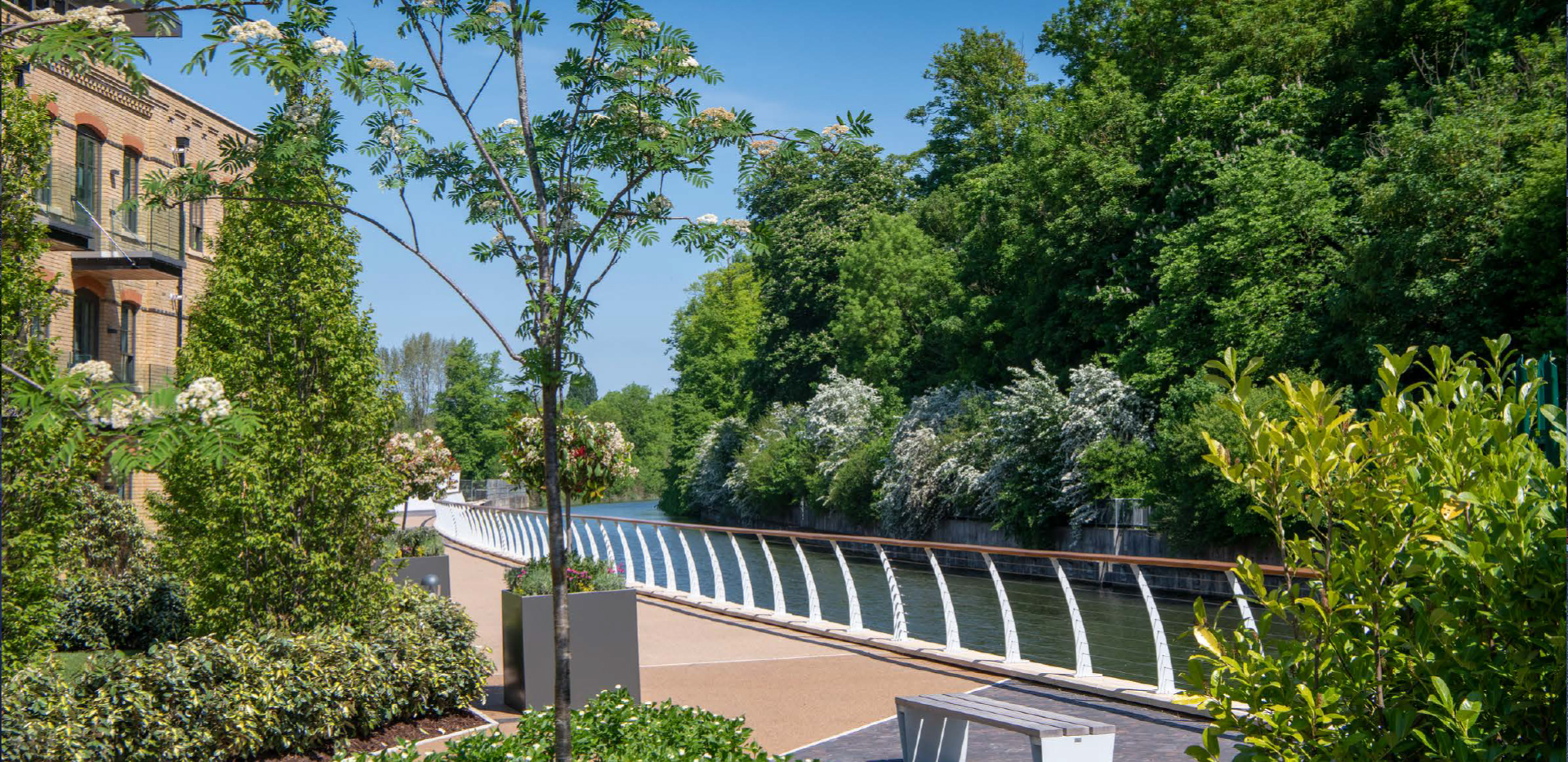 Client: Kennet Landscape Solutions Ltd (working on behalf of Berkeley Homes)
Project: Taplow Riverside, New-Build Development
Location: Buckinghamshire, England.
Berkeley Homes' Taplow Riverside combines modernity and tradition, with a magnificent four-bedroom riverside house in the historic Glen Island House, and cotemporary two-bedroom riverside apartments in the Jubilee Apartments Collection, comprised of two splendid and imposing contemporary buildings. Built on the site of an18th century paper mill, these new edifices reflect its bygone grandeur.
Berkeley Homes commissioned Kennet Landscape Solutions Ltd to create a high-quality plant scheme in keeping with the contemporary, historical and natural aspects of the development. The magnificent Jubilee River was at the forefront of design – each of the stylish apartments has a balcony or terrace from which residents can enjoy the stunning vistas. There are also wonderful expanses of green space: new country paths, riverside walks and a nearby country park with picnic areas and exercise equipment.
Kennet Landscape Solutions Ltd faced few unexpected challenges during this project, but the usual strictures of time frame logistics had to be met. Kennet particularly needed to be assured of their product quality for this deluxe development and the managing director chose Greenwood Plants, having been favourably impressed with our service on previous projects.
The beautiful plants supplied by Greenwood were used to landscape the riverside walks in naturalistic style, whilst also creating a modish exterior landscape for the buildings themselves.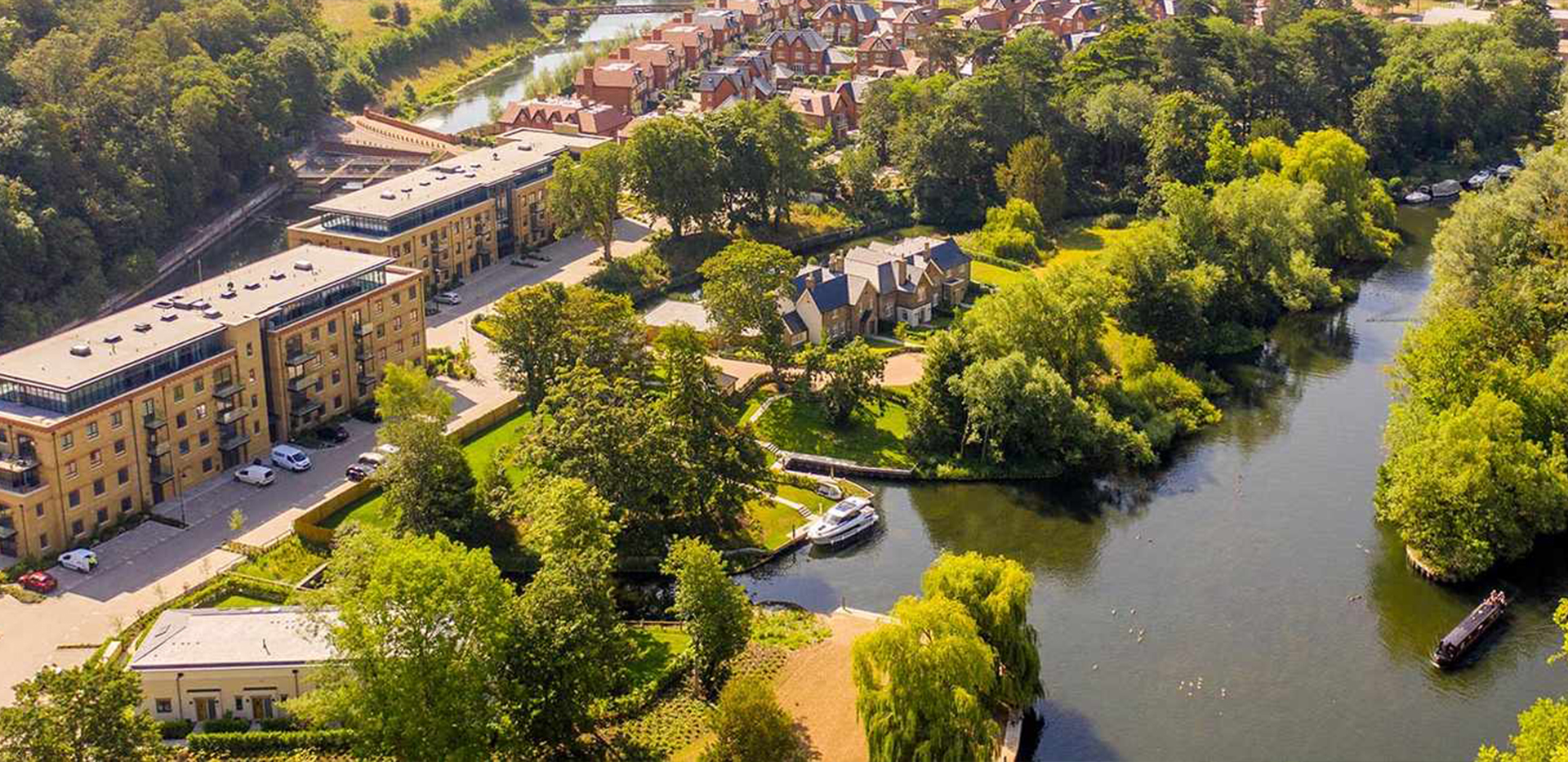 Our Approach
Greenwood selected prime specimens of various trees, shrubs and plants to match the elegance and natural beauty of the surroundings. We supplied 585 100-120cm Ligustrum ovalifolium plants to create instant impact glossy, upright hedging separating the buildings from the riverside walks. For a textured and naturalistic feel, other hedging plants were also incorporated, including 371 100-120cm Carpinus betulus (hornbeam), 330 Vibernum tinus and 26 Prunus rotundifolia (cherry laurel).
Behind the riverside hedging, Kennet planted 136 Photinia x fraseri 'Red Robin', whose red foliage makes for an eye-catching feature on riverside strolls. Magnolia stellata, Magnolia 'Elizabeth' and Sorbus 'Joseph Rock'(mountain ash) were among the trees planted as other focal points on the lawn areas – each with stunning seasonal displays of colourful foliage or flowers – while Betula pendula 'Tristis' adds a more naturalistic effect nearer the river, with its wonderful crown of slender drooping branches and its characteristic bark of elegant silver-white.
Architectural interest and year-round colour was added to open spaces with a range of delightful and low-maintenance shrubs. These included 136 Ceanothus 'Puget Blue' (Californian lilac), for dreamy cloudlike clusters of deep blue flowers in later spring and early summer, and 320 Mahonia media 'Charity' (Oregon Grape), whose fragrant yellow cup-shaped flowers form striking erect clusters for autumn and winter colour. English lavender (Lavandula angustifolia 'Hidcote') was among the other shrubs selected for scent as well as colour, creating a feast for the senses in these open spaces.
Frontages were given distinction with more formal specimens such as Buxus semperviens (box hedging) and Juniperus scopulorum 'Skyrocket- (Rocky Mountain juniper), a conifer aptly named for its distinctive columnar shape. Flowering shrubs and climbers were cleverly incorporated to ensure year-round interest.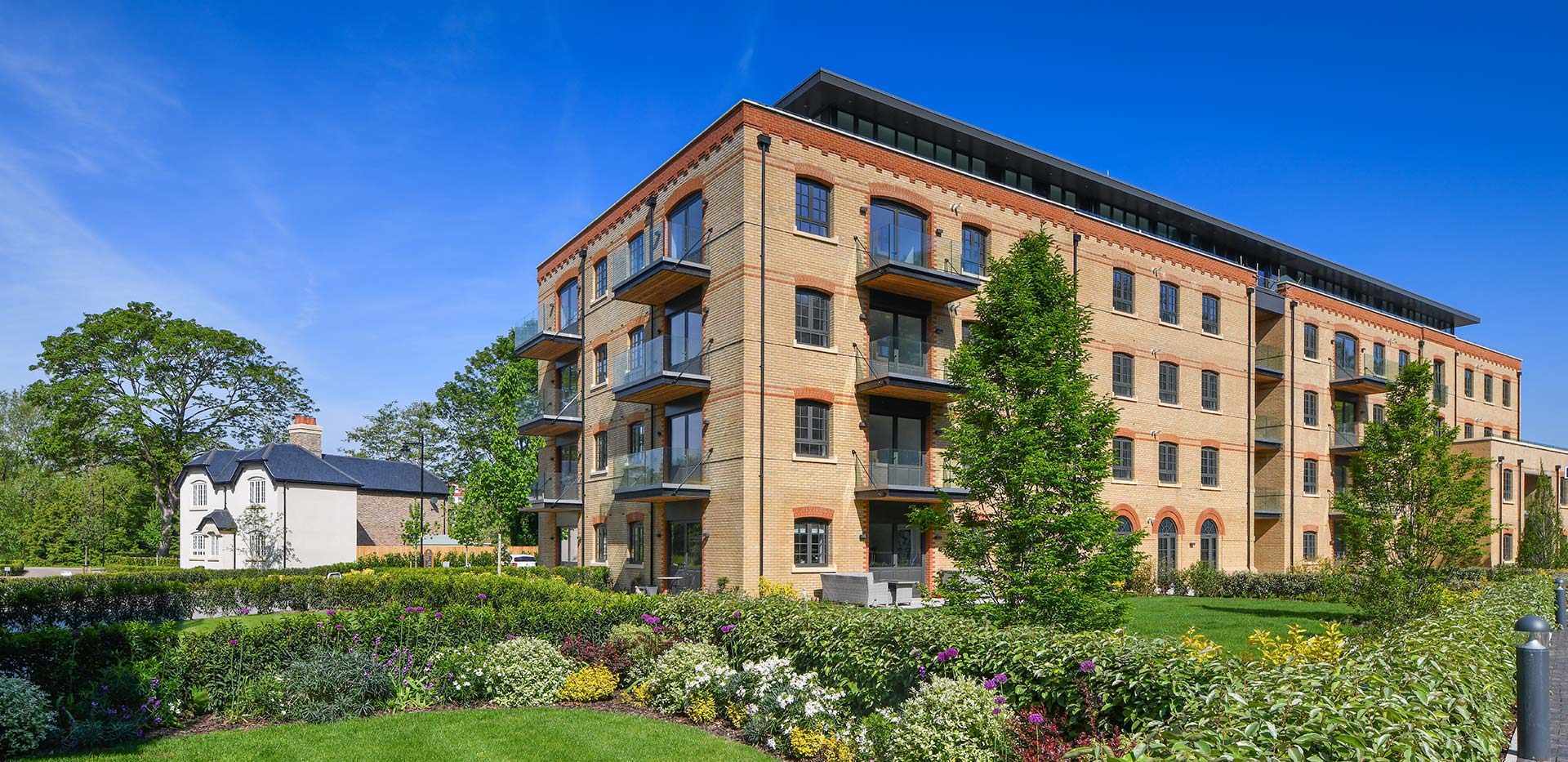 The Result
The end client was very happy with the completed works, and Kennet Landscape Solutions Ltd said that the finished landscape surpassed the project objectives and expectations. The development itself was a winner in the What House? Awards 2020, taking bronze in the highly coveted Best Development category. Greenwood Plants are proud to have provided the plants which helped scoop an 'Oscar' of the industry.
The judges commented effusively of the landscaping that it 'is superbly designed, well executed and complements what is a lovely setting to the River Thames'. Greenwood was able to provide plants that Kennet Landscape Solutions Ltd ingeniously wove into several interlinking yet distinct landscapes – from the stylised frontages and formal gardens replete with flowering shrubs, to the lush, wilder feel of the riverside walks. Many plants were selected for their multi-sensory offerings, so that an idle promenade at any time of year will yield pleasing aromas, hues and textures – from the apple-scented pink foliage of climber sweet-briar (Rosa rubiginosa) to puffs of fragrant creamy-white flowers from Viburnum opulus 'Roseum' – known as red guelder rose or (more appropriately!) snowball.
Those fortunate enough to reside in these elegant contemporary apartments will be blessed not only with views of the Jubilee River, but stunning landscapes which enhance both the buildings and the natural environs. On their doorstep are wonderful open spaces with facilities for exercise and socialising, and every park and riverside walk has been lovingly landscaped with Greenwood's superior quality plants.
With tranquillity at home, proximity to country villages and wonderful dining experiences – in addition to  ease of travel to larger commuter towns – residents will have an idyllic situation at Taplow, Riverside.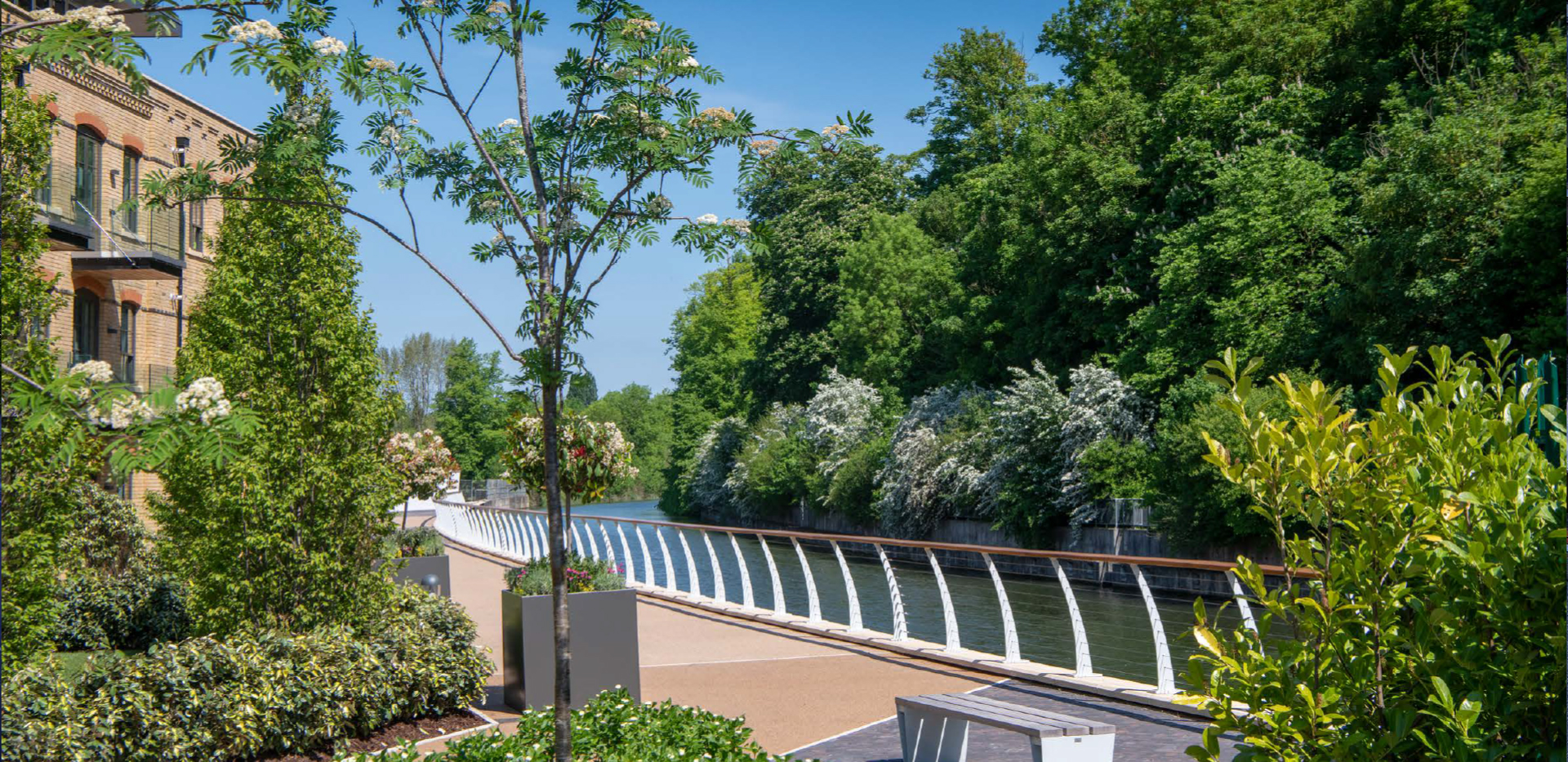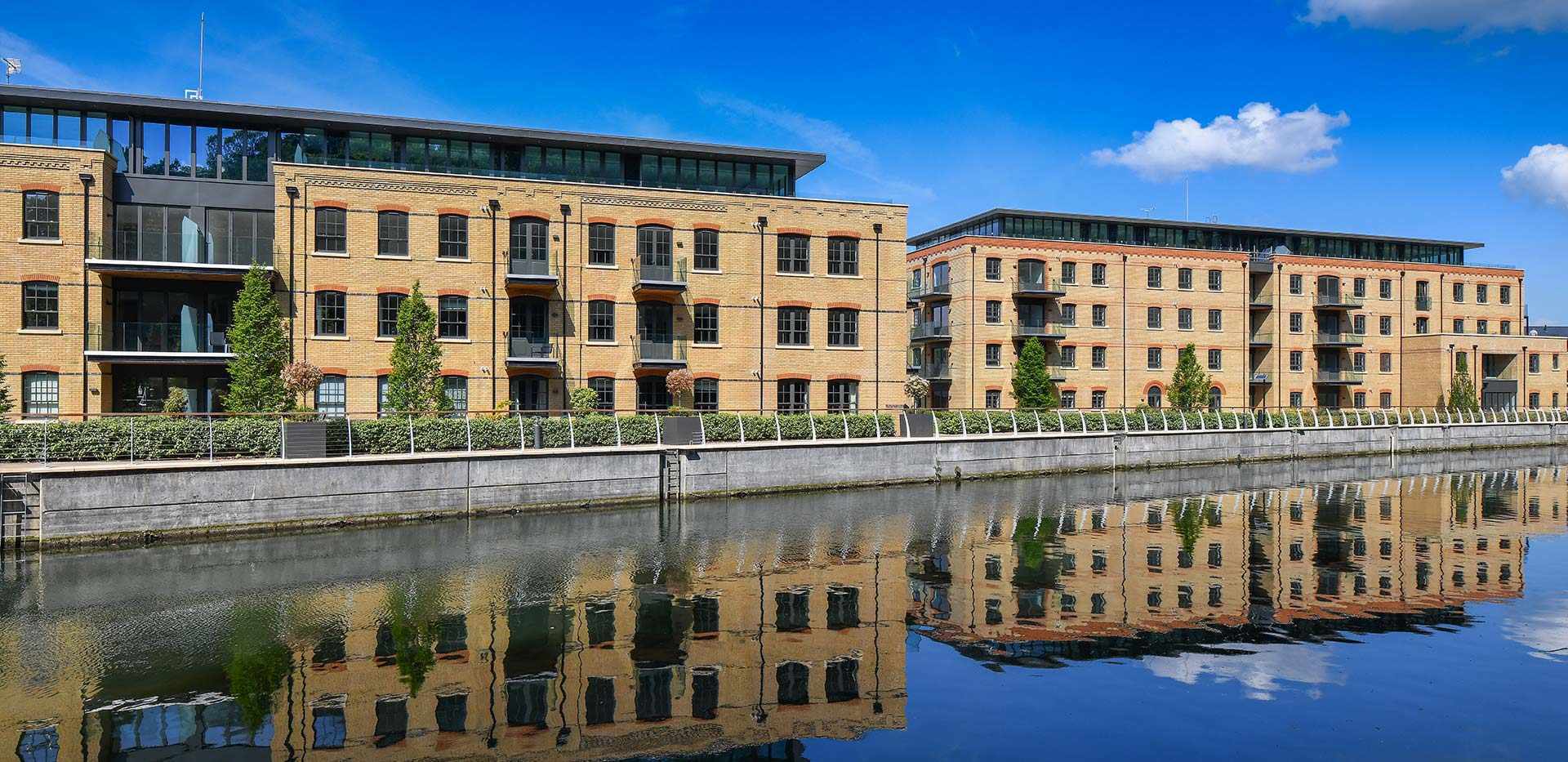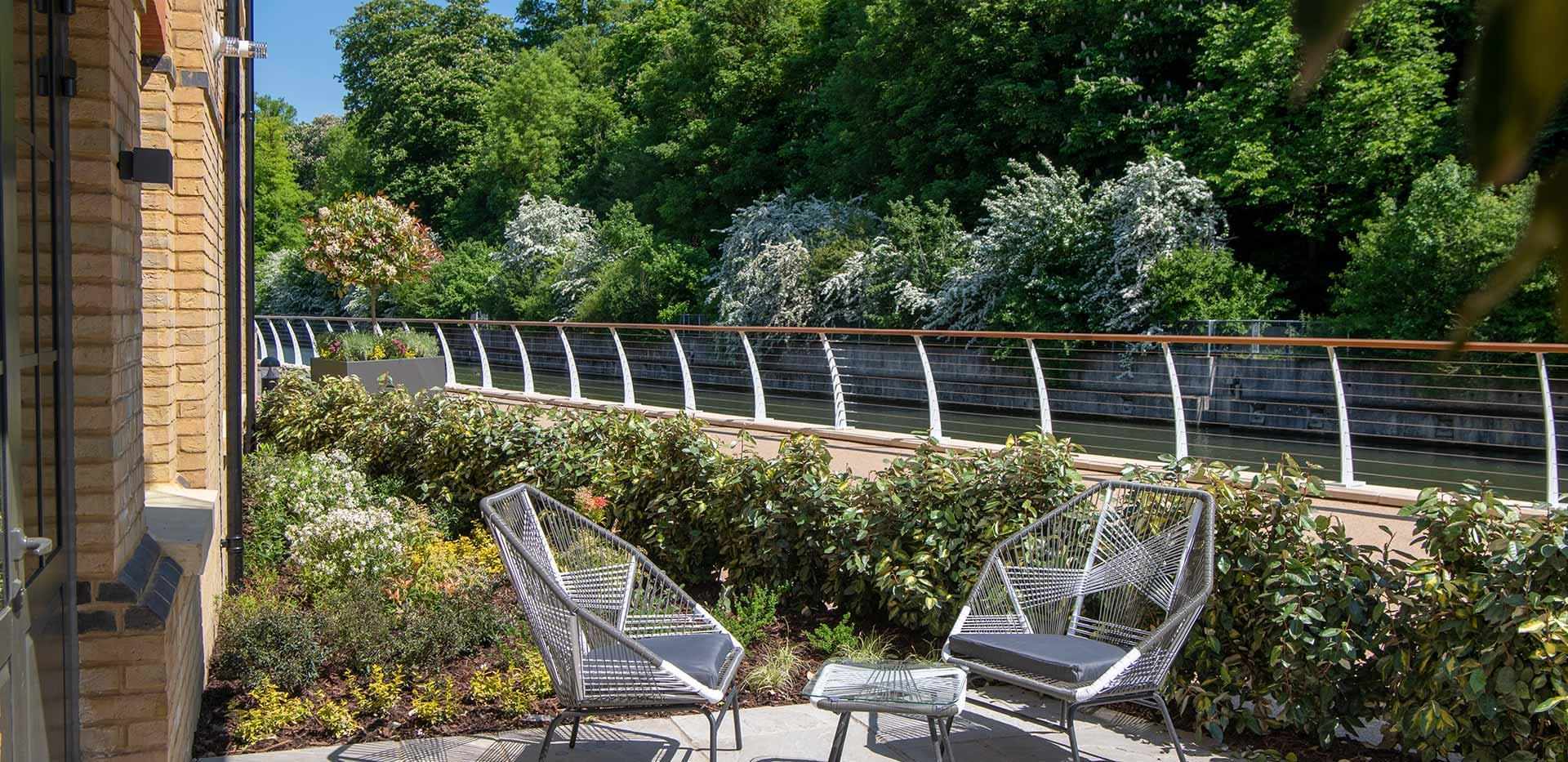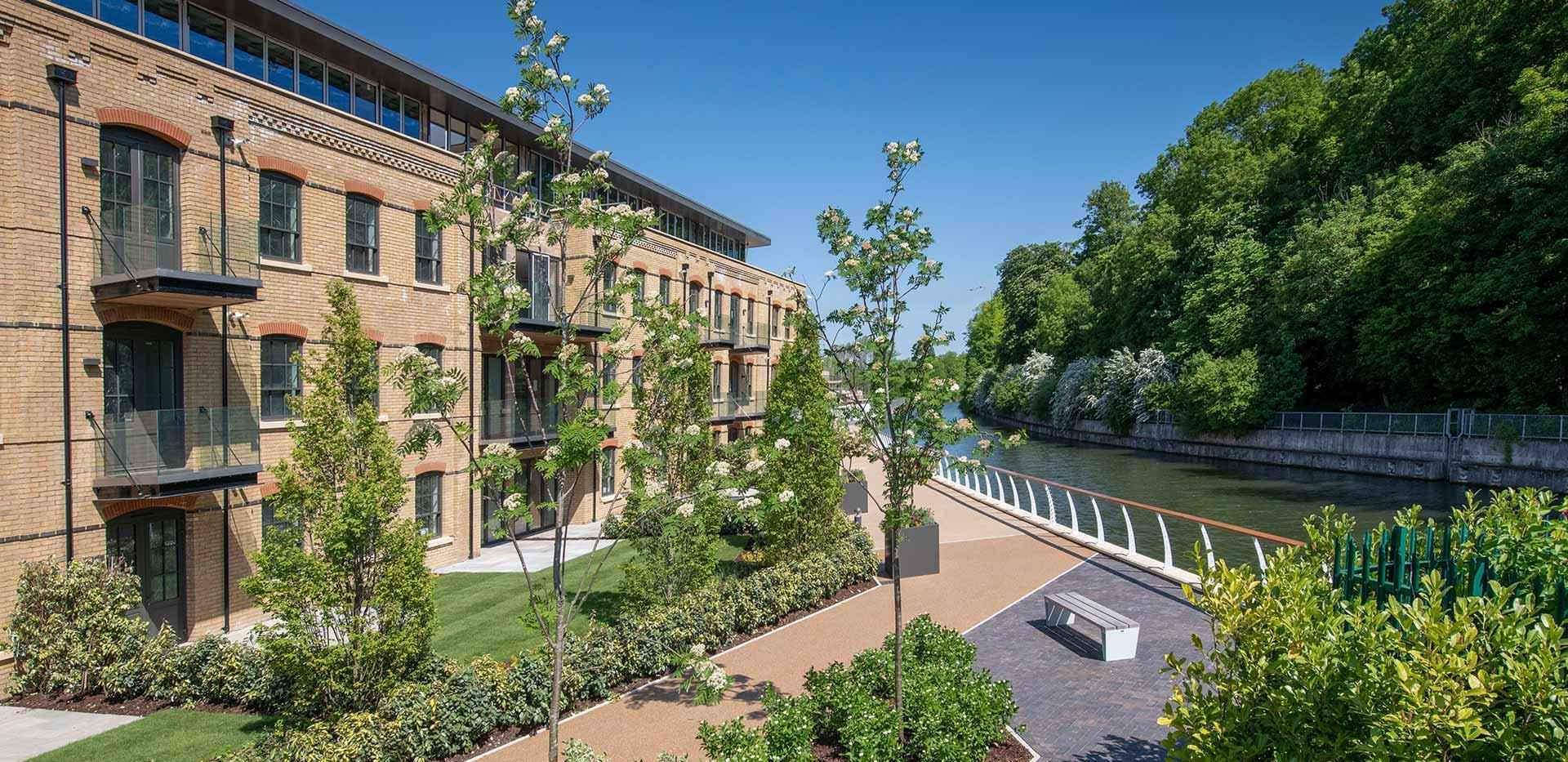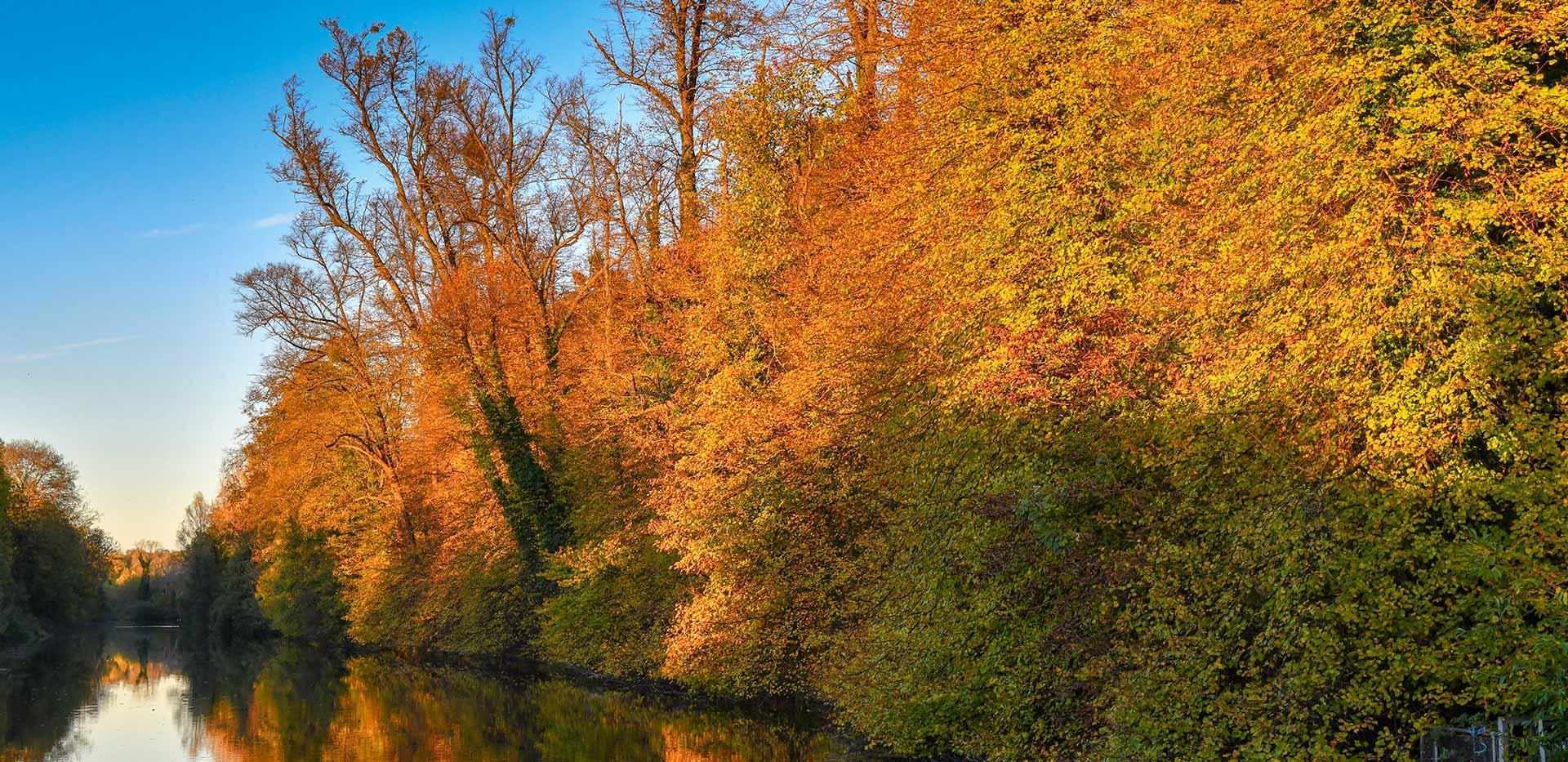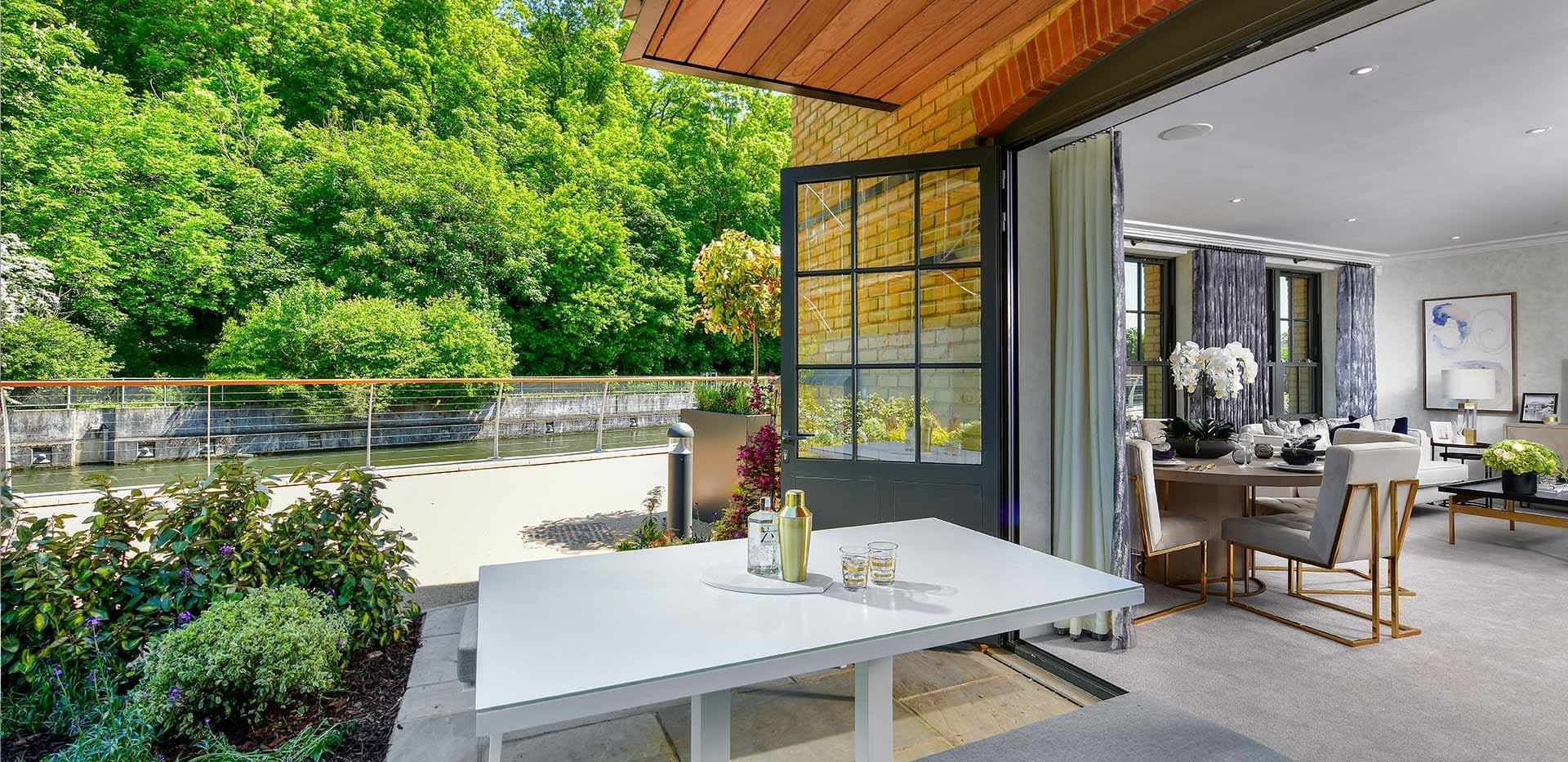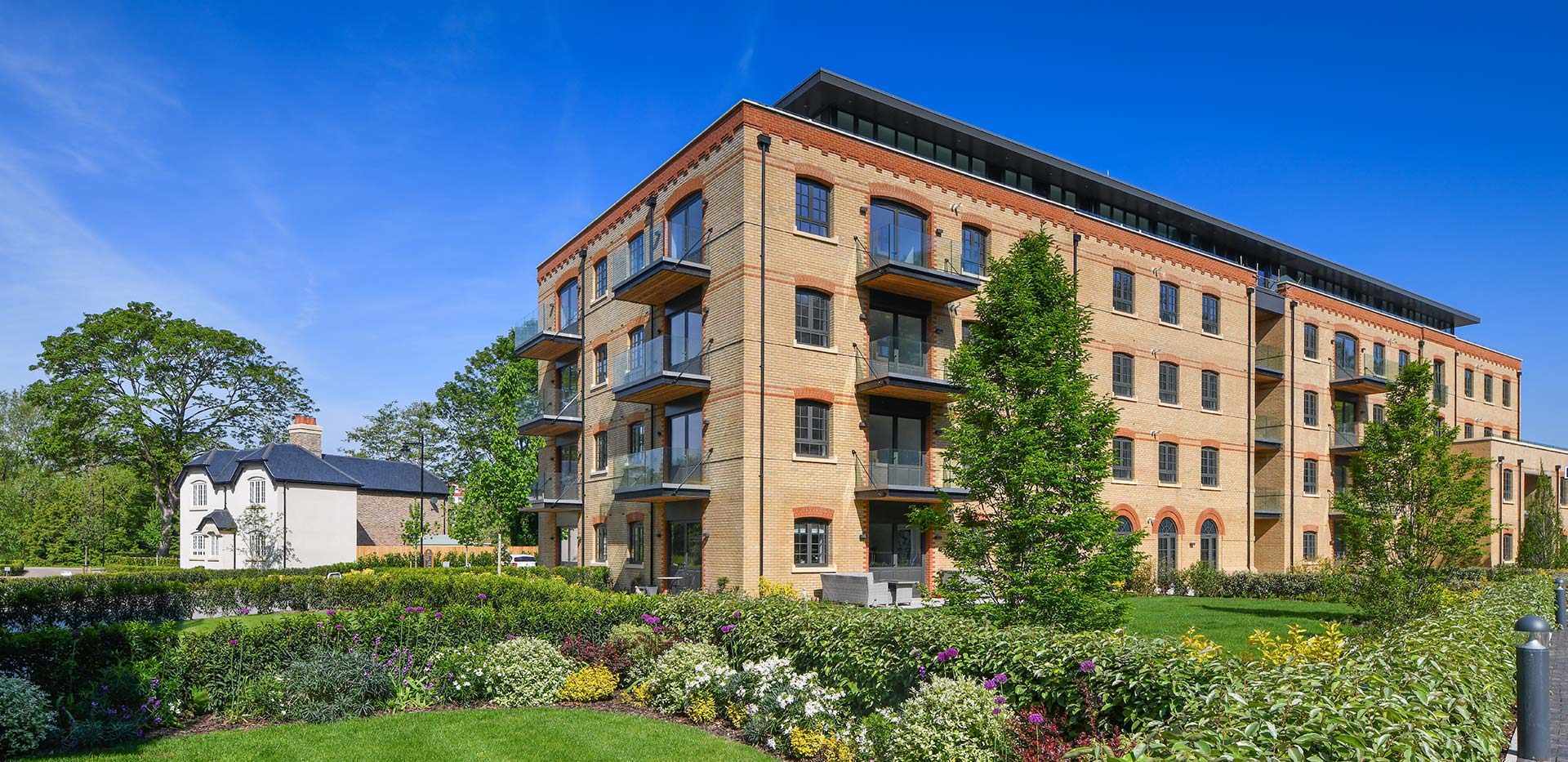 "Greenwood Plants has always given us a very responsive service and supplied great quality plant stock. We look forward continuing to work with Greenwood in the future."